The search for a notary office Trusted at 7 District becoming increasingly important in the context of comprehensive development of domestic fields. To increase the legal value and effectiveness of the terms, rights and obligations of arising transactions, you should be careful to choose the appropriate notary address. Let's take a look at the top 5 reputable and safe notary units that we have compiled below.
Instant Notary Office, District 7, Ho Chi Minh City
1
Notary office Idichthuat
Having spent more than 10 years serving people in legal matters, for the first time Idichthuat always a highly appreciated name from partners across the country. With a professional working process and transparent and clear prices, this is the most effective factor in building trust for the unit.
Currently notarized Idichthuat has received documents to provide notary services throughout 63 provinces and cities in the country with a variety of forms such as: Notarization at the designated location, notarization outside office hours, urgent and urgent notarization, ...

Outstanding advantages at Idichthuat:
The facilities are spacious and well-invested, making it convenient for customers to access the unit.

The staff works with enthusiasm and dedication in any legal process, always listening and improving every day.

Notaries, consultants, lawyers, etc. 100% of notaries have bachelor's degrees in regular law, are proficient in their profession, and have a deep understanding of the legal system.

Detailed quote for each service fee, commitment to comply with current price regulations of the law.

Professional handling process, right person in right job.

Committed to the speed of returning the most optimal results to partners.

Strict storage system, long-term security policy.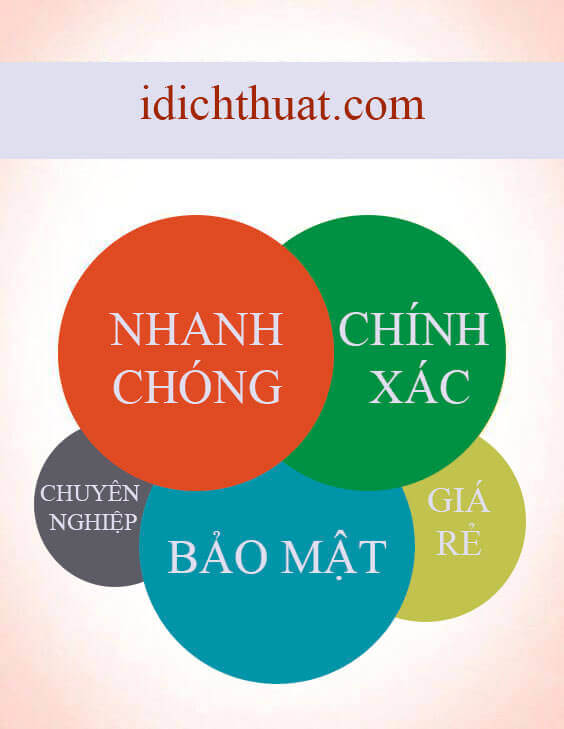 Contact Info
Website: idichthuat.com
Hotline: 0866.682.329
Email Address: info@idichthuat.com

Head Office: 228 Au Co, Quang An, Tay Ho, Hanoi

Ho Chi Minh Branch: 184 Duong Ba Trac, Ward 2, District 8, Ho Chi Minh City

Hue Branch: 97 Phan Dinh Phung, Vinh Ninh, Hue City, Thua Thien Hue

Da Nang Branch: 33/5 Vo An Ninh, Hoa Xuan, Cam Le, Da Nang
+ See more:
2
Bui Thi Xuan Notary Office
In operation since very early days, Bui Thi Xuan notary office has owned a large number of loyal customers in the market including individuals and businesses. The company's strength is its modern facilities, spacious parking lot, and convenient transportation for customers.
In addition, the unit is also highly appreciated thanks to the dedicated and friendly service style of its talented and enthusiastic staff. This is also an important factor that brings about sustainable development in the market of the unit up to now.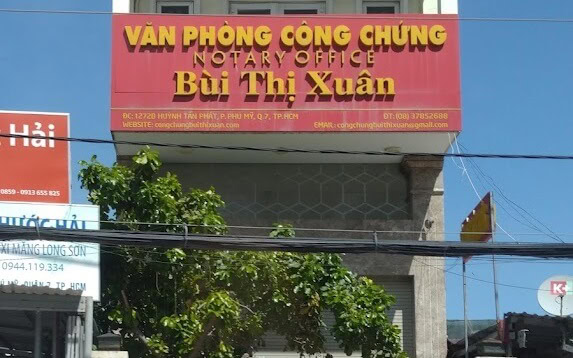 Contact Info
Address: At 1272B Huynh Tan Phat, Phu My, District 7, City. HCM.

Phone number: 0866.682.329
3
Nguyen Van Tuan Notary Office
The next notary address in this Toplist must be mentioned Nguyen Van Tuan notary office. The unit builds its position thanks to a team of officials and experts with extensive practical experience, easily handling all legal situations if customers need it.
Most importantly, the unit always focuses on the motto "Quality over quantity", therefore each service quote is strictly censored, ensuring compliance with the value that customers receive.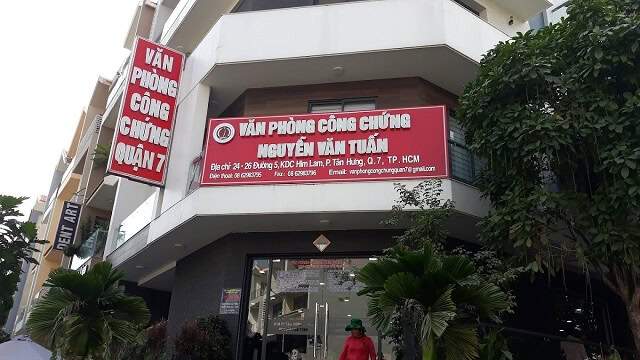 Contact Info
Address: At 24 - 26 Street 5, Him Lam Urban Area, District 7, City. HCM.

Phone number: 0398.885.616
4
Tan Thuan Notary Public Office
Tan Thuan Notary Office Located in District 7 with the mission of being the strongest and safest "legal key" for both people and businesses. Along with developing facilities and equipment, the unit also focuses on training and perfecting the expertise of personnel.
In order to bring the most comprehensive legal value to customers, the unit expands its operations, providing services throughout all time frames such as: Notarization at home, on-site, notarization after hours, quick notarization, …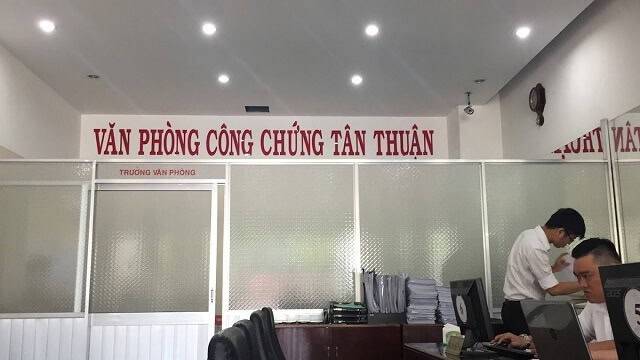 Contact Info
Address: 448 Nguyen Van Linh, Tan Phu, District 7, City. HCM.

Phone number: 0985.931.212
5
District 7 Notary Office
Notary Office No. 7 is a gathering place for a team of notaries, secretaries, specialists, and lawyers, all of whom have worked at state agencies with high qualifications and professional behavior. In addition, the unit also commits to bear all administrative responsibility if there are any violations of professional ethics or errors during the service process.
Understanding the needs and desires of customers, Notary Office No. 7 confidently provides quality legal services, optimizing both time and cost effectiveness.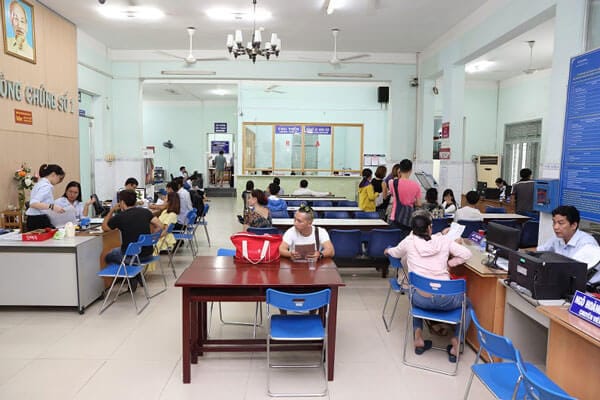 Contact Info
Address: 119 Nguyen Thi Thap, Him Lam area, Tan Hung, District 7, HCMC

Phone number: 0964.198.855
Find out information about Top 5 instant notary offices in District 7, HCM The above will help increase work efficiency as well as safety for each set of records and legal documents. After careful selection, if you still have questions and want answers or in-depth advice, don't hesitate contact right.
Update the list of nearest notary offices