Korean notarized translation is attracting a lot of attention. This language is now widely used in many parts of the world.
In the below article Idichthuat will provide you with some information about Korean notarized translation. This is a growing sector with a lot of attention. Stay tuned for additional information on this subject!
See more posts:
1
What is Korean Notarized Translation?
Korean is becoming increasingly popular in many countries, including Vietnam, since, in addition to mother tongue and English, the need for international trade and learning is growing, therefore it is natural for new languages to emerge. As a result, Korean is more extensively used and known. Whereby Notarized Korean translation also get the most attention from Korean businesses and individuals.
The purpose of this translation is simply to convert Korean to Vietnamese and vice versa. It happens when we are required to complete procedural papers pertaining to this language.
The translation is critical for every language, not just Korean. Which criteria, such as grammar, spelling, and style, should translators focus on the most? To be able to translate accurately, translators must have a long working time and comprehend the culture. Above all, they have had the opportunity to work and study with native speakers.
2
Cases that necessitate a notarized Korean translation
Notarization is required in a variety of professions and specialities. The following are some typical situations that necessitate Korean notarization:
Identification documents, identity card, citizen identity card.

Certificate, Diploma in Korean.

Documents specialized in economics, engineering, health, production, commerce,…

Minutes of signing, project contract, ....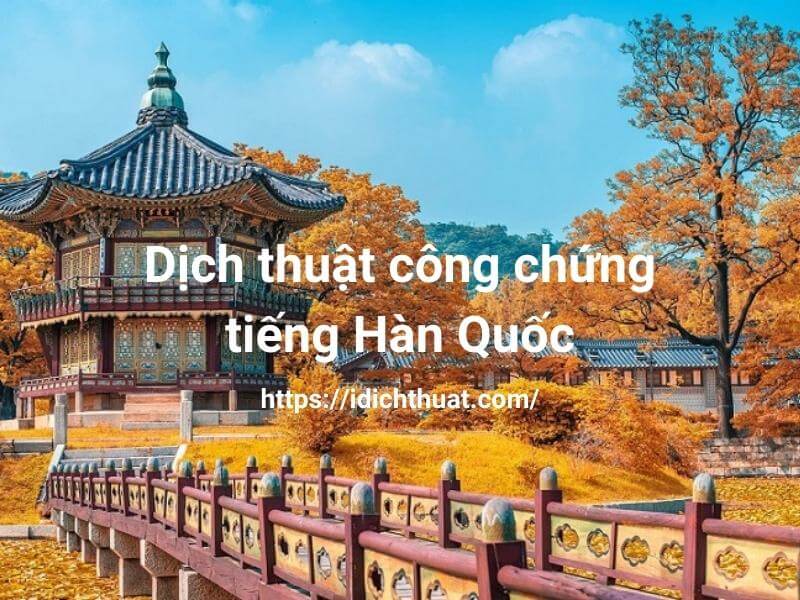 3
Idichthuat – A reliable translation service provider
Nowadays there are many translation companies on the market. Customers' requirements have been partially addressed as well. However, finding a respectable and excellent company for notarized Korean translation for the first time would be tough since there are so many providers and you don't know which one is reliable.
If you're still having trouble finding a good and reasonable provider, take a look at Idichthuat. This is a translation agency with over 10 years of expertise. As a result, the service's authenticity and quality could be assured.
Translation Quality Assurance
The assessment criterion and primary need is the quality of the notarized translation. We continually monitor the translation process and guarantee that the translation is accurate.
The translation features a nice layout, precise text, appropriate attachments. Above all, they have all been acknowledged and authorized by government bodies. This will please you upon receiving your paperwork.
If the text of the paper you are checking does not match what we initially promised. You have the right to make a complaint, and we will reimburse you if it is true.
+ See more: How to calculate basic translation price
Highly Qualified Korean Translator Team
Idichthuat have a team of translators and interpreters for Korean graduated from leading domestic and international universities. They have many years of experience working in the field of Korean translation. These experts have been with the company for more than 10 years. As a result, we can verify that the company's team has sufficient seniority and competence to meet your translation requirements.
Furthermore, with the broad experience of our expert team, we are always available to assist you in any relevant situations. If you have any difficulty related to Korean notarized translation, please contact the company immediately. Accordingly, we will have a dedicated team of consultants to support you 24/24.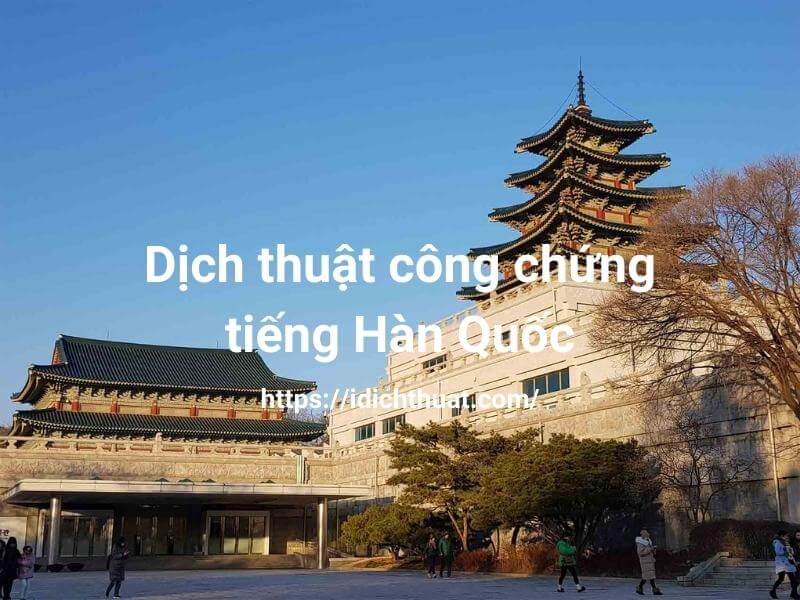 Handling Diverse Applications, Attractive Service Fee
Idichthuat is glad to have the market's best team of translators and collaborators. We can handle not just Korean notarized translation, but also other languages. The reasonably priced service will help you in executing the notarization of your Korean papers and documents.
Translators are fully equipped with the knowledge and abilities required to perform your notarization procedures. In reality, they have processed many such documents and data in the past and have great knowledge in this area, so you will feel confident entrusting the task to us.
In summary, you must comprehend the concerns with Korean notarized translation. Please contact Idichthuat today to get a quote for Korean notarized translation .