Quote professional Vietnamese - English translation services
With the current economic, political and cultural trade between countries, especially Vietnam is a country attracting a large amount of foreign investment capital, so the signing of contracts or transactions of companies with foreign investors is very difficult. Most of them use English language. Therefore, the accuracy of the translation always requires a top priority.
With that urgent need, finding a service English translationProfessional credibility is essential for every business. Please refer to the following article to learn about the needs and advantages of Vietnamese - English translation services!
Need to hire Vietnamese - English translation services
How is self-translating Vietnamese to English different from Vietnamese - English translation services?
Translation services are very popular nowadays
Self-translated English - Vietnamese:
Translators are not in-depth with American culture, so it will be difficult to understand the context in the text to be translated

Some American words are very concise and diverse in meaning, if the translator does not regularly improve his knowledge or read American texts, he may mistranslate because he misunderstands the meaning of that word.

The translator does not understand the American culture and since then it is very difficult to fully understand the meaning of the sentence to be translated.

Many specialized words are unfamiliar, or have too many meanings.

Professional knowledge is quite limited when a translator needs to know 16 common fields such as economics, finance, accounting, health, securities ...

Only understand the literal meaning without inference to in-depth translation of the text to be translated because Americans are often very concise and use fairly short words.

Not mastering grammar because many sentences or specific contexts require understanding of grammar to translate correctly.
Hire English - Vietnamese translation services:
The staff are experts in the field of Vietnamese - English translation

Highly professional experience and deep research in the field of translation should translate closely and in accordance with the context of the text.

Master the grammar, common words to most accurately describe the content to be conveyed.
What are the advantages of professional Vietnamese - English translation services?
For businesses with international cooperation using pure English, hiring a translation company is essential, this is also one of the keys to the company's success.
Quality of work
The fact that a longtime, professional English translator will be able to translate documents or contracts for the company accurately because they understand the depth of the language rather than using an employee who only knows the basics. about English.
Professional translation staff bring success to the company
Expertise in a particular field
When you hire a translation service, you will be provided with a staff member who specializes in the field you need, so the translation will be accurate and the work will be completed in time.
Keeping up with the company's progress
If the company is growing and has more and more partners, it will be difficult for an internal employee to meet because of limited ability compared to a specialist in translation services. This easily leads to errors and easily brings risks to the business.
Consistency in all documents to be translated
When you hire a professional staff of a translation service, it will ensure the consistency of the text to be translated, assuming the partner wants to learn about a certain process or product line, but if the staff does not experts, they will translate the driver to another topic, making the information exchanged between the two parties not as consistent as the original.
Important notes when hiring English - Vietnamese translation services
Before deciding to hire Vietnamese - English translation services, businesses should note the following characteristics:
Choose a professional translation company or a freelance translator:
With the amount of documents, contracts and accuracy, you should hire a translation company because there will be a dedicated department, reading, translating, editing and proofreading for the business, although the cost may be slightly higher. a little translator.
Hire specialized translation services: When hiring a service, it is necessary to find the right service with the right professional translator to ensure the accuracy of documents and contracts.
Need to hire experienced service: Find out more about the service you are aiming for by researching on the website or the feedback from customers.
What do you know about a professional English translation company – Idichthuat yet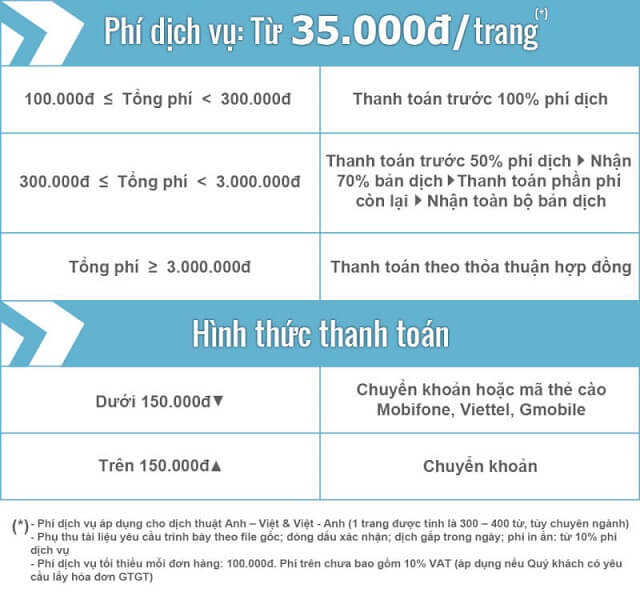 Professional reputable Vietnamese - English translation service
With over 8 years of experience, more than 50 types of services and a service provider Vietnamese – English translation Professional reputation with a team of professional, dedicated professionals, committed to meeting all the needs of our customers.
Idichthuat is the first unit to provide translation services with a closed process, optimizing quality and work benefits for businesses.
Idichthuat What commitments and incentives do you have?
We pledge to standardize our services according to international standards and if you are not satisfied, we will refund you 100% of the cost. The preferential price is already at an attractive level with a cost of only VND 35.000/page. The bigger the order, the more discount you get. Full support when customers need to edit content and do not incur costs.
The above is all useful information for your business to find services Vietnamese - English translation professional reputation. And to get quality, accurate documents and contracts and succeed in international business cooperation, businesses should immediately choose our services. idichthuat at the website address idichthuat.com to experience the benefits that the service package brings.
View Multilingual translation service other at Idichthuat: