Quote Korean - Vietnamese translation service prestigious, cheap and professional
Currently, Korea (Hallyu) has been imparting K-pop culture, entertainment, music, drama... to Vietnam. Capital investment from Korea into Vietnam is growing in many fields.
Therefore, working in the Korean language is also becoming a trend and the need to find companies providing services Korean translation Professional reputation is being chosen by many companies.
Trade between Vietnam and Korea
What's the difference between Vietnamese - Korean translation and hiring Vietnamese - Korean translation services?
Vietnamese - Korean translation has many difficulties
Self-translated Korean - Vietnamese:
Vietnamese is an onomatopoeic language while Korean is a pictographic language and the two countries have different cultures, so translating Vietnamese - Korean will face many difficulties:

If you do not understand the context of the sentence being said, it is difficult for translation because it will be easy to lose your way or not for the purpose of the text.

Many specialized terms in each situation will be different so that translators who do not understand deeply will easily translate incorrectly or do not properly represent the nature of the matter being mentioned.

Koreans have concise and concise ways of speaking, so if they don't understand their lifestyle and habits, it will be difficult to fully understand the information given.

The knowledge of the translator is quite limited while the translation needs to understand 16 fields such as economy, culture, education, politics...

Weak grammar also makes translation limited because many sentences require a clear understanding of grammar to fully express what the sentence wants to express.
Korean - Vietnamese translation service:
Mastering expertise, understanding Korean culture should be in-depth and literal translation of the content to be translated

A team of experts with many years of experience in translation will catch the trend and style of the documents to be translated and translate according to the style of each field.

Mastering grammar and grammar to fully express the meaning and content of each sentence.
Advantages of professional Korean - Vietnamese translation services
For businesses with partners who use only Korean language, the need for services Vietnamese - Korean translation Professional credibility is essential to ensure quality work.
Quality work guaranteed: The fact that a longtime, professional Korean translator will understand the depth of the language rather than using an employee who only knows the basics of Korean to translate documents or contracts for the company. exactly.
Specialize in a specific area: staff specializes in the field you are in need of so that the text to be translated will be accurate and the job completion time will be as specified.
Keeping up with the pace of the company: An internal translation staff will be difficult to meet because of limited ability compared to an in-depth specialist when the company's workload is more with business development and expansion.
Consistency in all documents to be translated: The process or production line ... or the issues to be discussed will be accurately translated according to the regulations, standards, and forms of each major or business field.
Important notes when hiring Korean - Vietnamese translation services
Before deciding to hire Vietnamese - Korean translation services, businesses should note the following characteristics:
Choose a professional translation company or a freelance translator: Although the cost is higher than hiring a translator, the translation service will ensure more accuracy because it has a closed working process from reading, editing, translating and checking.
Employees with long-term qualifications will bring many benefits to the business
Specialized translation service companies are looking for: Specialized staff will ensure the accuracy of each sentence, term and context of the text to be translated.
Need to hire experienced service: Investigate licenses, uptime, and customer feedback on the service.
Cheap, Professional, Prestigious Korean Translation Company Quotes
With over 8 years of experience, more than 50 types of services and a service provider Vietnamese - Korean translation Professional reputation with a team of professional, dedicated professionals, committed to meeting all the needs of our customers.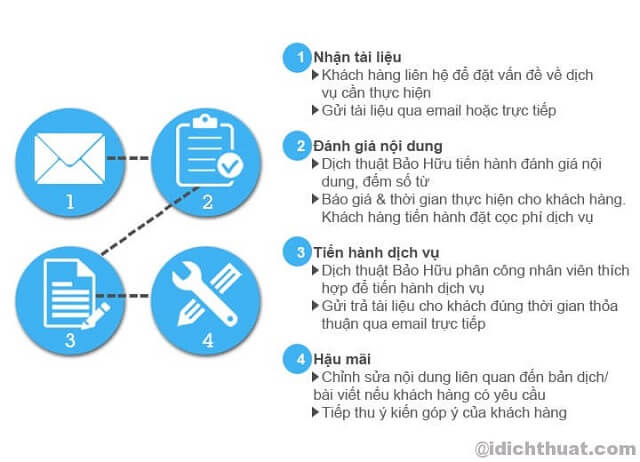 Professional Vietnamese - Korean translation service Dịch
Commitment and incentives when using the company's translation services idichthuat
Idichthuat is the first unit to provide translation services with a closed process, optimizing quality and work benefits for businesses. We commit to standardize our services according to international standards and if you are not satisfied, we will refund 100% of the cost when mistranslating more than 10% of the translation from your partner. There will be good deals if the quantity is more. Fast and accurate translation does not keep partners waiting long.
With information about the service Vietnamese - Korean translation Prestigious and professional, hope your business can find the right service for you. Website address idichthuat.com Our team is ready to support you in all areas of translation and is committed to bringing the best benefits to your business.
View Multilingual translation service other at Idichthuat: