Many notary office was born with the role of providing quick and convenient solutions for all administrative procedures of customers. However, not all notary units have enough capacity and expertise to take on this important role. Therefore, the article below will review the top ones for you Safe, professional notary address in District 10 now.
Instant Notary Office, District 10, Ho Chi Minh City
1
Notary office Idichthuat
As a starting point for the list of dedicated and reputable notary units in District 10, we definitely have to mention this notary office Idichthuat. The unit not only possesses the strength of industry experience but also service quality with talented and dedicated associates.
Each unit's service process is moderated and allocated to the right person for the right job, thereby easily optimizing waiting time and costs for customers. Currently Idichthuat has provided notarization services nationwide, ready to receive online or on-site notarization if customers need.

+ Proposal: Our services Cheap notarized English translation in HCM
Outstanding advantages at Notary Public Idichthuat:
Notaries, lawyers, and professional secretaries all have good knowledge of the Vietnamese legal system and have experience working at state agencies.

The service process is applied flexibly and absolutely in accordance with current practice standards and regulations.

Professional working style, dedicated to consulting, listening and providing detailed instructions to customers.

Quote service prices immediately after receiving information from customers.

Commitment to safety and security policy.

Working speed is fast, ensuring results are delivered on time.

Bear any risks arising due to service problems of the unit.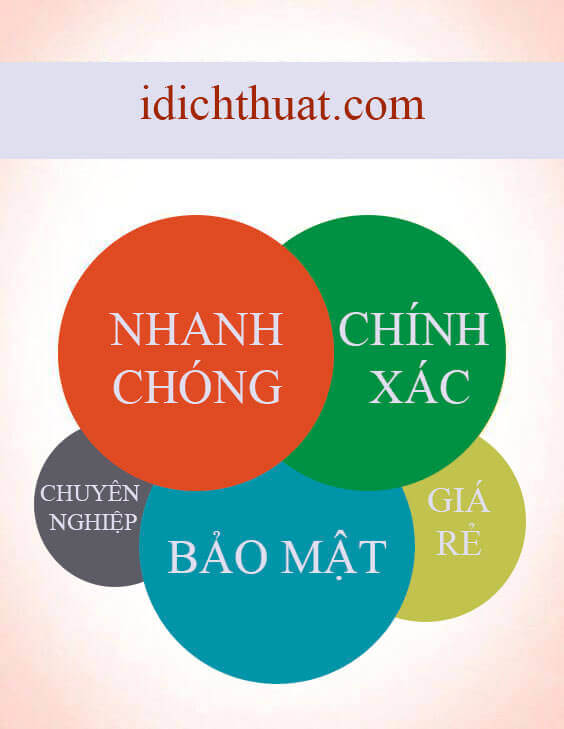 Contact information:
Website: idichthuat.com
Hotline: 0866.682.329
Email Address: info@idichthuat.com

Head Office: 228 Au Co, Quang An, Tay Ho, Hanoi

Ho Chi Minh Branch: 184 Duong Ba Trac, Ward 2, District 8, Ho Chi Minh City

Hue Branch: 97 Phan Dinh Phung, Vinh Ninh, Hue City, Thua Thien Hue

Da Nang Branch: 33/5 Vo An Ninh, Hoa Xuan, Cam Le, Da Nang
2
Mai Viet Cuong Notary Office
Mai Viet Cuong Notary Office In operation since 2016, up to now the unit has successfully fulfilled its mission and legal role in economic and civil transactions. The outstanding advantage of the unit is the solidarity of a group of personnel who are both qualified and have good ethics.
With efforts and dedication in the profession, Mai Viet Cuong Notary has become a destination that achieves high satisfaction from customers not only in District 10 but also in many provinces and cities nationwide.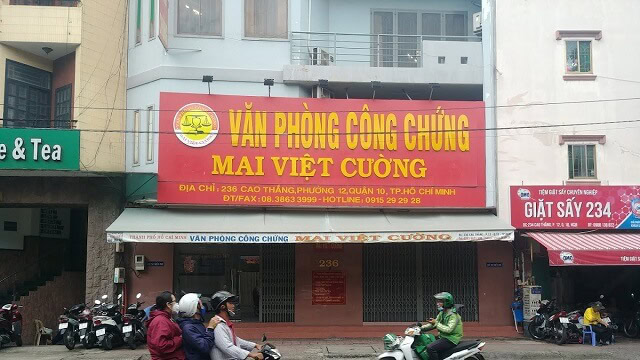 Contact information:
Address: 236 Cao Thang, Ward 12, District 10, City. HCM.

Phone number: 0964.198.855
3
Le Kim Thanh Notary Office
Le Kim Thanh Notary Office We are fortunate to have a team of core staff who are all legal experts and have a close understanding of taxes. Not only that, the unit also invests in improving services through periodic review sessions and customer feedback panels.
Through unremitting efforts over the past many years, the unit has maintained its top position compared to competitors in the same industry across the country. The services that the unit is providing include: Notarization of translations, authorization contracts, transfers, loans, signature authentication, photocopying,...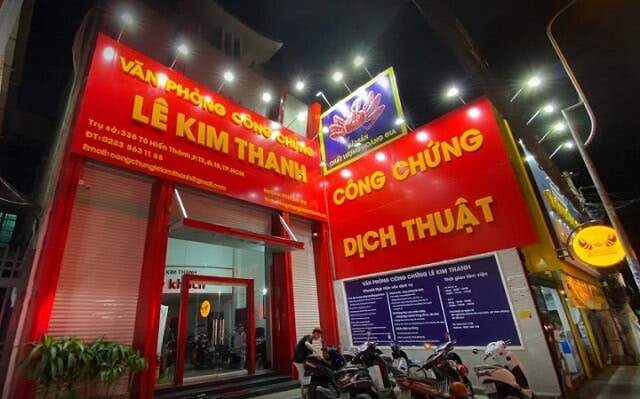 Contact information:
Address: 335 To Hien Thanh, Ward 13, District 10, City. HCM.

Phone number: 0398.885.616
4
Dong Thi Hanh Notary Office
One of the indispensable legal addresses with a certain name and reputation in District 10 Dong Thi Hanh notary office. Although the number of notary offices is increasing, the unit is still considered a potential partner for many customers thanks to its professionalism in the entire service process.
The unit always trains personnel towards sustainable and stable development, therefore quality is always a priority factor for each project undertaken. Service quotes are publicly updated on the website, ensuring compliance with state regulations.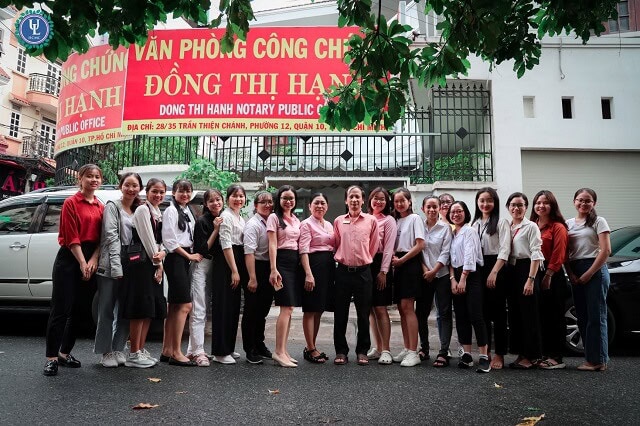 Contact information:
Address: 378 – 380 Ngo Gia Tu, Ward 4, District 10, City. HCM.

Phone number: 0985.931.212
5
Bui Ngoc Long Notary Office
With dedicated commitment and professionalism in each legal service process, Bui Ngoc Long notary office Definitely indispensable in this toplist. The unit is headquartered in District 10, providing a variety of services such as: Notarizing contracts, copying originals, drafting documents, certifying translations, ...
Over many years of practice, notary public Bui Ngoc Long has completed thousands of different projects and legal documents for both individual and organizational customers, bringing safety and effective risk prevention to businesses. transactions arising domestically.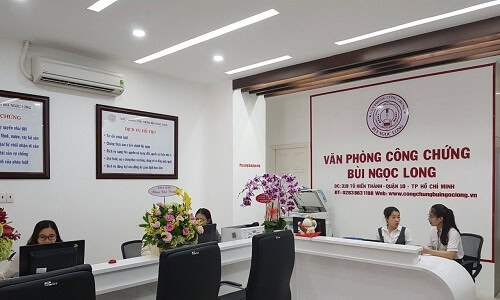 Contact information:
Address: 319 To Hien Thanh, Ward 12, District 10, City. HCM.

Phone number: 0866.682.329
Find out information about Top 5 notary offices in District 10 deserves to become your potential partner here, hoping to best help your work. If you have any concerns or questions about any legal service, please contact right.
See also the nearest notary offices