Along with the rapid development of residential and urban areas in District 5, a series of notary offices have appeared to serve administrative work. Understanding that, the article below will bring you important information about the top 05 addresses to receive reputable and safe notary services that you can refer to.
List of Notary Offices in District 5, Ho Chi Minh City
1
Notary office Idichthuat
Mentioning notary offices with high seniority and reliability is certainly not to be missed notary office Idichthuat. Any highly complex papers, contracts, or documents are guided and handled enthusiastically and quickly by leading industry experts.
Come to Idichthuat, you can rest assured that the quality of service and working process always meet professional ethical standards and current legal regulations. With Formula "Professional - Safe - Fast", this is definitely a notary address not to be missed for you.

Outstanding advantages at Notary Public Idichthuat
Time to receive and process work is 24/7, effectively meeting specific notarization needs such as: Notarization outside office hours, urgent, same-day notarization, notarization outside the office,...

Notary and legal service fees comply with state regulations and are published directly on the unit's official website.

The staff and staff are all talented experts, graduated with bachelor's degrees in law, and have many years of experience working at state agencies.

The notarization process is carried out quickly and closely between each department, with a professional and methodical working style.

Receive and return results on-site, flexible payment methods.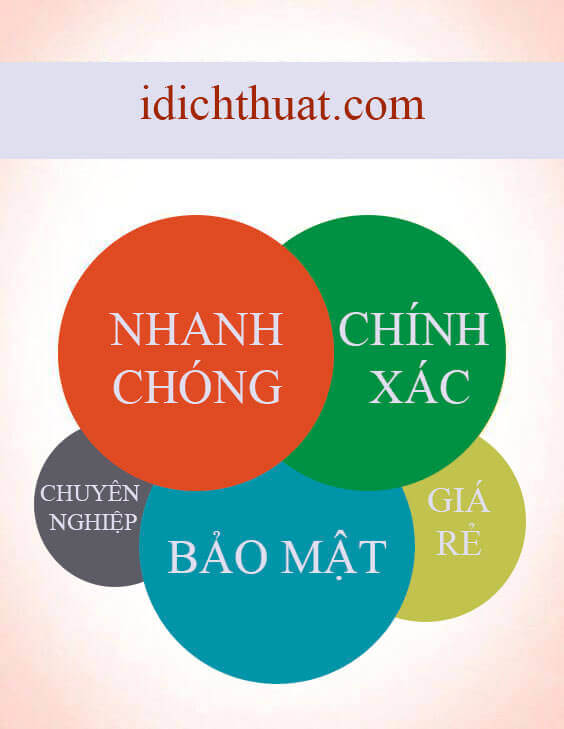 Contact Info
Website: idichthuat.com
Hotline: 0866.682.329
Email Address: info@idichthuat.com

Head Office: 228 Au Co, Quang An, Tay Ho, Hanoi

Ho Chi Minh Branch: 184 Duong Ba Trac, Ward 2, District 8, Ho Chi Minh City

Hue Branch: 97 Phan Dinh Phung, Vinh Ninh, Hue City, Thua Thien Hue

Da Nang Branch: 33/5 Vo An Ninh, Hoa Xuan, Cam Le, Da Nang
+ Proposal:
2
Cho Lon Notary Office
If you are wondering which notary address to choose, then Cho Lon notary office is one of the places you can put your trust in. The unit owns a team of notaries, secretaries and experienced lawyers, not only with good legal knowledge but also extremely quick problem-solving skills.
With the desire to bring safety and ensure the best benefits for customers, the unit specializes in providing a diverse package of services with online and offline forms such as: on-site notarization, after-hours, legal. consularization, drafting documents, contracts, etc.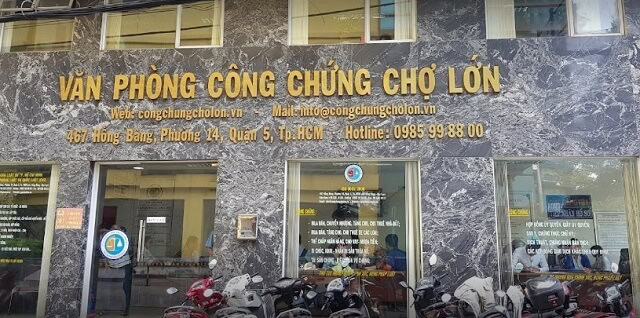 Contact Info
Address: 467 Hong Bang, Ward 14, District 5, Ward 14, District 5, City. HCM.

Phone number: 0964.198.855
3
Hoang Xuan Ngu Notary Office
Hoang Xuan Ngu Notary Office is one of the top 05 dedicated and dedicated notary addresses operating in District 5, City. HCM. After many years of working with dedication, enthusiasm and caution, the unit has attracted many individual and organizational customers when in need of notarization or other legal services.
Hoang Xuan Ng Notary Public increases its reputation among partners thanks to the thorough training and periodic testing of the professional qualifications of its staff. Thereby, ensuring the service operates smoothly and most accurately.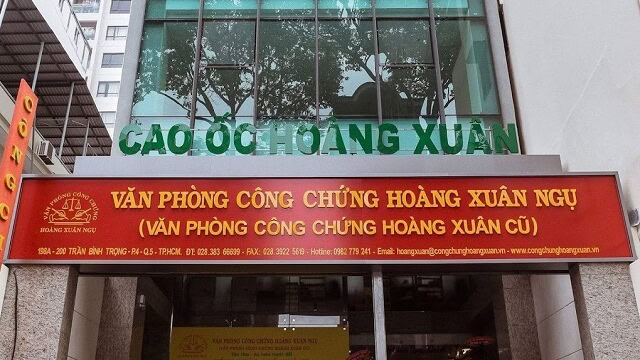 Contact Info
Address: 198A Tran Binh Trong, Ward 4, District 5, City. HCM.

Phone number: 0985.931.212
4
Notary Public Office No. 2
Notary office No. 2 is one of the units assuming legal responsibilities and powers under the administration of the City Department of Justice. HCM. With the experience of completing each project, the unit has well carried out its mission of bringing the safest and most accurate to every transaction that arises from people.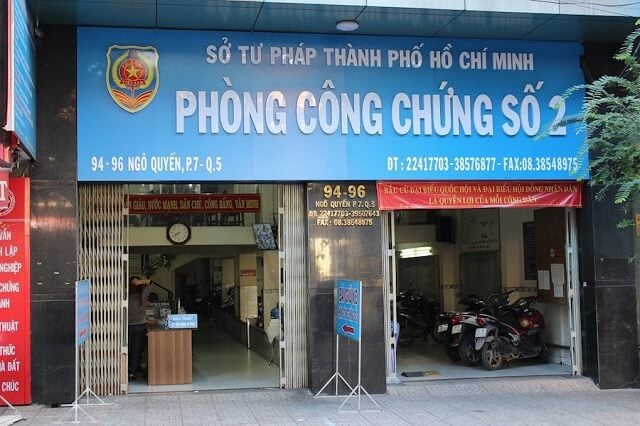 Contact Info
Address: 94-96 Ngo Quyen, Ward 7, District 5, City. HCM.

Phone number: 0866.682.329
5
Hoang Xuan Hoan Notary Office
Whenever mentioning notary units with certain names and reputations in the District 5 area, it is indispensable Hoang Xuan Hoan notary office. In order to serve customers most completely and promptly, the unit provides notary services both outside of business hours or directly to the place specified by the customer.
With any questions or concerns, the consulting department at Hoang Xuan Hoan Notary will wholeheartedly guide and explain thoroughly at absolutely no cost. In addition, customers will receive quick service quotes, committed to transparent fees and compliance with current laws.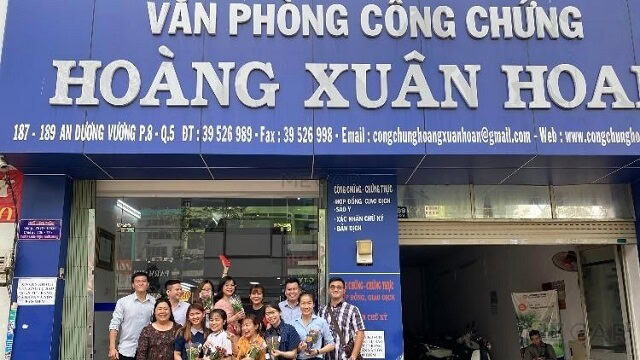 Contact Info
Address: 187- 189 An Duong Vuong Street, Ward 8, District 5, City. HCM.

Phone number: 0398.885.616
If you are confused when choosing a partner that provides safe, quality notary services, please consult now Top 5 reputable notary offices in District 5 above. In addition, for inquiries, quotation advice or legal support, please contact us contact right.
See more of the fastest, most reputable notary offices