The process of cultural integration and exchange between Vietnam and France has not only developed strongly in the inner city but also in neighboring provinces, especially the province. BA Ria Vung Tau received more and more attention in recent times. That's why the need French translation All kinds of papers, legal documents, documents and vouchers are sought by many customers. The article below, we will recommend you the top French translation company in Ba Ria - Vung Tau prestige, quality with the most competitive cost today.
List of Top Most Professional French Translation Companies in Ba Ria – Vung Tau
1
Liuba Translation And Service Co., Ltd
Liuba Translation Company was established since 2018 with strengths in Translation of documents in Russian and English thanks to owning a team of personnel who have worked and lived in Russia for a while. In addition, at present, Liuba Translation has expanded its market share, providing a variety of services such as: multi-language, multi-specialty translation, financial management support, insurance, human resource management, ...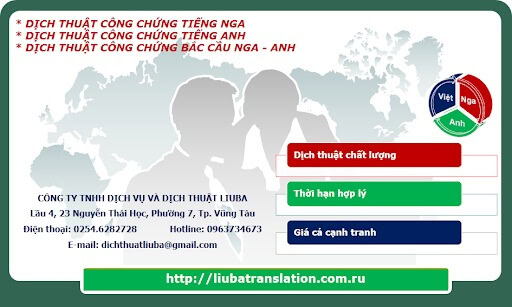 Advantages of Liuba translation:
The translated content is transmitted accurately, in accordance with the local style of each country, and is ready to be adjusted according to the individual requirements of each customer.

Updating software, modern French translation tools, helping customers save time and costs with absolute accuracy.
Contact Liuba translation:
Address: 23 Nguyen Thai Hoc, Ward 7, City. BA Ria Vung Tau

Tel: (0254) 6282728 – 0963.734.673
>>> Related posts:Top The Most Prestigious Japanese Translation Company in Ba Ria – Vung Tau