The process of cultural integration and exchange between Vietnam and France has not only developed strongly in the inner city but also in neighboring provinces, especially the province. BA Ria Vung Tau received more and more attention in recent times. That's why the need French translation All kinds of papers, legal documents, documents and vouchers are sought by many customers. The article below, we will recommend you the top French translation company in Ba Ria - Vung Tau prestige, quality with the most competitive cost today.
List of Top Most Professional French Translation Companies in Ba Ria – Vung Tau
1
Liuba Translation And Service Co., Ltd
Liuba Translation Company was established since 2018 with strengths in Translation of documents in Russian and English thanks to owning a team of personnel who have worked and lived in Russia for a while. In addition, at present, Liuba Translation has expanded its market share, providing a variety of services such as: multi-language, multi-specialty translation, financial management support, insurance, human resource management, ...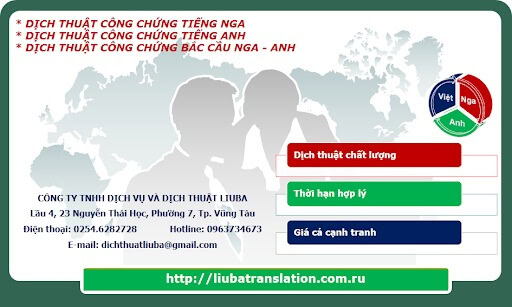 Advantages of Liuba translation:
The translated content is transmitted accurately, in accordance with the local style of each country, and is ready to be adjusted according to the individual requirements of each customer.

Updating software, modern French translation tools, helping customers save time and costs with absolute accuracy.
Contact Liuba translation:
Address: 23 Nguyen Thai Hoc, Ward 7, City. BA Ria Vung Tau

Tel: (0254) 6282728 – 0963.734.673
>>> Related posts: Top The Most Prestigious Japanese Translation Company in Ba Ria – Vung Tau
2
Translation company Idichthuat
Translation Idichthuat known as one of the pioneers in the field of multilingual and specialized translation with a scale of operation in all 63 provinces and cities nationwide. The number of customers using the service each year reaches over 2500 domestic visitors and 200 international visitors. Come to translation idichthuat, customers will be answered and satisfied with more than 100 languages ​​from the simplest to the rarest.

Advantages of a translation company idichthuat:
Idichthuat owns a staff network of over 1000 people all over the country, some of them are collaborators living and working in France, thus understanding the local culture.

In particular, the French translation process is operated through modern software such as: SDL Trados, Word Fast, MemoQ, ...

A team of consultants working continuously on the phone 24/7 is ready to quote quickly within 10 working minutes.

Come to idichthuat, customers are provided with a variety of other package services such as: instant translation, urgent collection, consular legalization, judicial notarization, .... Moreover, the company is ready to refund the full cost if the translation upon receipt contains errors of 10% or more.
Contact the translation company idichthuat
Head Office: 228 u Co, Quang An, Tay Ho, Hanoi Hà

Hotline (Zalo/Viber/Whatsapp): 0866.682.329 – 0384.358.287
Email:

dichtot@gmail.com

Website: https://idichthuat.com/
3
ASEAN Professional Translation Technology Joint Stock Company
Asean translation is one of the top French translation companies in Ba Ria - Vung Tau specializing in providing services for the Asia Pacific region and Vietnam. The number of customers serving each year is estimated at over 3.312 people with a total of completed projects over 26.765 translations. The scale of operation includes 40 key personnel and more than 200 collaborators, all with bachelor's degrees in foreign languages, having lived and worked directly in France.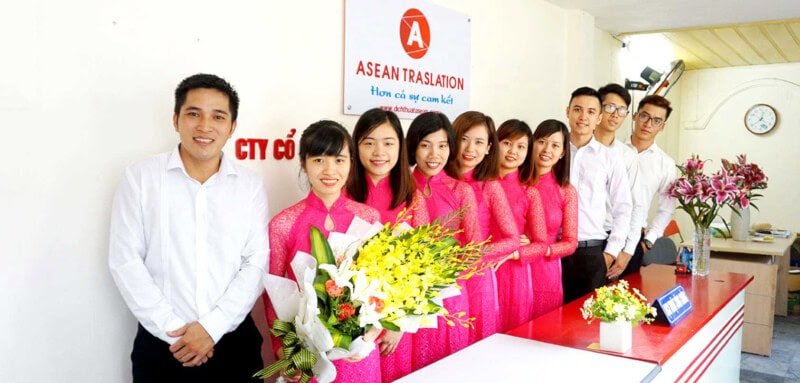 Advantages of professional translation ASEAN
Working motto "Fast translation - security - accuracy - professionalism - best support", committed to bring quality French translations at the lowest cost in the market. OLD

Branches operate nationwide, receive applications online and offline, provide free consultation for customers 24/7, including holidays, New Year's and Sundays.
Contact ASEAN professional translation
Address: 696 Dien Bien Phu, Ward 10, District 10, Ho Chi Minh City

Telephone: 0247.304.9899
4
A2Z Translation Company
Translation company A2Z is one of the strategic partners providing multi-specialty, multi-language translation services of many large and small enterprises both at home and abroad. With a long-standing reputation in the industry, the company always puts customer satisfaction as a guideline for the operation and development of the collective. (Refer to Top 5 French Translation Company in Ho Chi Minh City)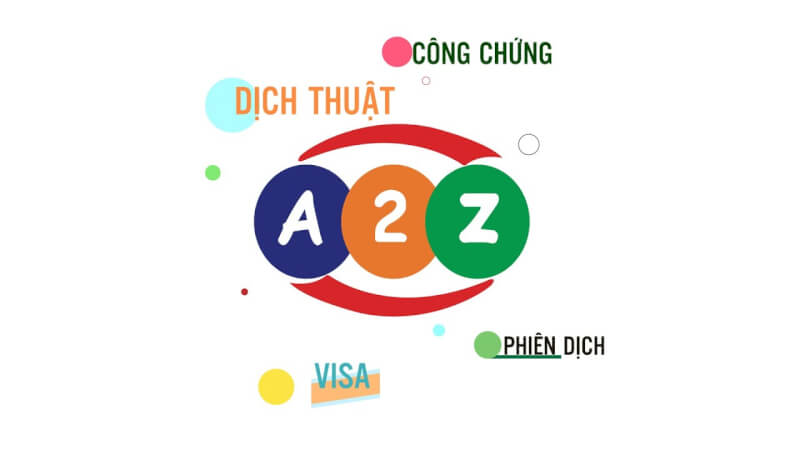 Advantages of A2Z translation company:
A2Z Translation is proud to own a team of experienced professionals, with solid knowledge of the legal profession.

Especially, for new customers, the company offers free French translation on the first page, so customers can be assured of quality and detailed price agreement.

Assign personnel suitable to each content and nature of translated documents, committed to meeting all the most complex needs of customers.
Contact A2Z translation company:
Address: 531 Nguyen An Ninh, Nguyen An Ninh Ward, Vung Tau City, Ba Ria - Vung Tau Province

Telephone: 0966.779.888
Above is the list Excellent French translation company in Ba Ria - Vung Tau has a strong position in the industry translation for a long time, ensuring customers will have the most satisfied experience. Even so, today there are countless service providers Multilingual translation dịch proliferate in BA Ria Vung TauThis makes customers more concerned about quality as well as price. To avoid unfortunate consequences leading to poor quality translation, you can immediately contact the hotline of translation company idichthuat for free and most dedicated advice. (Refer French translation price prestige, professionalism, best price today)
| | |
| --- | --- |
| ✅ Translation Liuba | 0963.734.673 |
| ✅ Idichthuat | 0866.682.329 |
| ✅ Asean translation | 0247.304.9899 |
| ✅ A2Z translation | 0966.779.888 |