Ben Tre is one of the provinces with rapid economic development in many industries and fields. Besides that, Korean is a country that actively expands relations with Vietnam and since then the demand for Korean translation becomes very important. In particular, the demand for Korean translation in Ben Tre is also active. In order to help you capture the most useful information, we have proposed Top Korean translation company in Ben Tre today.
Top Quality Korean Translation Company in Ben Tre
1
MIDtrans . Translation Company
MIDtrans . Translation Company is one of the most famous companies specializing in providing Korean translation services in Ben Tre. To be as successful as it is now, the company has made great efforts of both the board of directors as well as the staff. They constantly improve and improve their skills to be able to meet the requirements of customers to the maximum.

Advantages of MIDtrans translation:
The translation processing time is extremely fast so that customers do not have to wait long but still get the best quality translation.

The company is committed to 100% refund if there is an error in the translation from 9% and is guaranteed indefinitely.

The translation team has extensive practical experience with studying abroad or collaborating with many individuals and organizations in Korea. It can be said that quality issues are always focused when using MIDtrans translation services in Ben Tre.
Contact MIDtrans translation:
Address: No. 17 Cach Mang Thang 8, Ward 3, Ben Tre.

Telephone: 0383.056.288
>>> Recommended articles: Why Korean translation is important today.
2
Saigon Translation Company
Famous for its professional working brand and the interests of customers always come first. So that Saigon Translation Company gradually gaining the trust of all customers near and far, Ben Tre is one of them. The company always brings interesting experiences and ensures customers will be satisfied.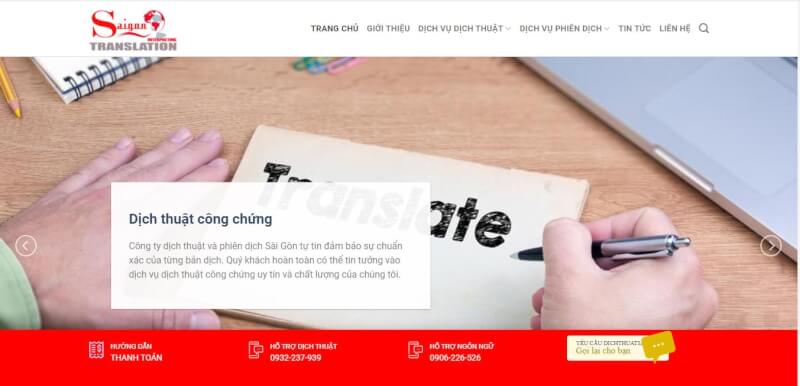 Advantages of Saigon translation:
The company has a team of translators who always work with the mind to practice in parallel with professional knowledge and necessary skills.

Saigon Translation Company provides multi-disciplinary services including legal, medical, technology - engineering and many other industries.

The company's absolute privacy policy is always focused and focused to the fullest extent.
Contact Saigon translation:
Address: 140/11 Dien Bien Phu, Ward 17, Binh Thanh District, City. HCM.

Telephone: 096.419.8855
3
Translation company Idichthuat
Referring to translation services for foreign languages, it is impossible not to mention the most influential company at the moment. Translation company idichthuat. To get to such a position, the company has worked non-stop for more than a decade. Famous as the Korean translation service in Ben Tre of Idichthuat.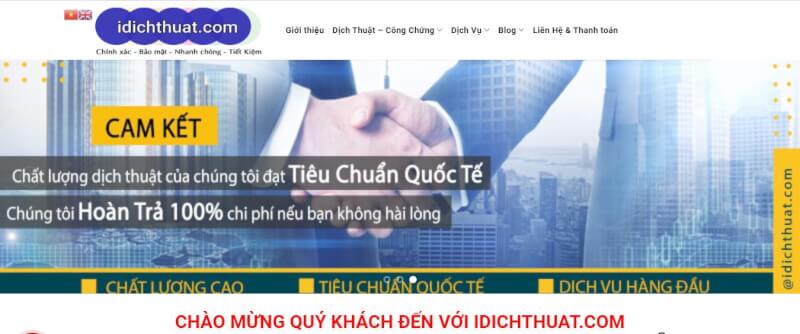 Translation advantages idichthuat:
Idichthuat always brings professional translation services with many leading experts as well as translators of the company.

Customer care mode is always available 24/7/365 so that all queries are resolved quickly, thereby saving customers' maximum time.

Always complete on time as committed, never have delay and absolutely do not affect the interests of customers.
Contact for translation idichthuat:
Address: 228 Au Co, Quang An, Tay Ho, Hanoi

Hotline (Zalo/Viber/Whatsapp): 0866.682.329 – 0384.358.287
Email: dichtot@gmail.com
Website: idichthuat.com
4
Oriental Translation Company
Motto "Accurate – Fast – Top Secret' then immediately think of Phuong Dong translation company. The company provides Korean translation services across the country and Ben Tre is no exception. By working with high concentration and spirit of market demand, the company occupies an important position in the hearts of each customer.

Advantages of Oriental translation:
The Korean translators at Phuong Dong Translation are those who have graduated from famous universities at home and abroad.

Moreover, they have received large projects and received very positive feedback from customers.

The customer care department always works in a listening and understanding attitude to be able to solve the thoughts and aspirations of customers in the most effective way.
Contact Oriental translation:
Address: No. 149 Khuong Trung Street, Khuong Trung Ward, Thanh Xuan District, Hanoi

Telephone: 08.6668.2329
>>> Most Viewed Articles: 6 Korean Dictionary Application Helping You Learn Better
5
Translation Company No. 1
Digital translation company 1 is currently the Top 5 Vietnamese translation companies according to GAT Global's ranking. In addition, the company is also known as a prestigious translation brand in 2016. To achieve such success, the role of all company employees is very important.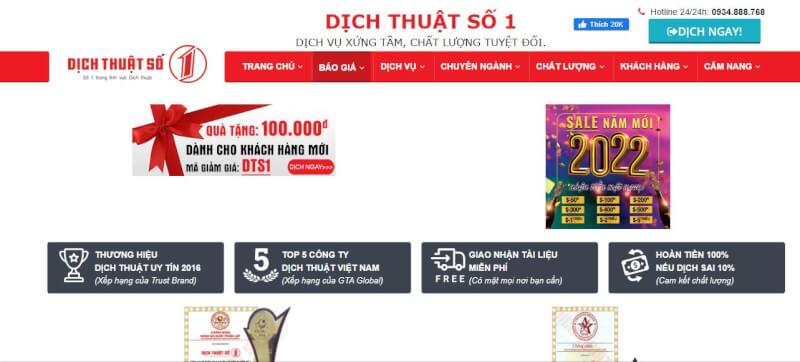 Advantages of translation No. 1:
The company offers many preferential policies for new and familiar customers. Through discounts and special deals to give customers maximum benefits.

No. 1 translation company also has a free document delivery service that few translation agencies can do.

By using the most advanced and modern translation methods today, translation processing time is minimized.
Contact the translation company No. 1:
Address: 5th Floor, Winner Land Building, 76 Cach Mang Thang 8, District 3, HCMC

Telephone: 0867.623.648
Above is the information about translation company which have been carefully screened. Thereby, hopefully can help you find Korean translation company in Ben Tre suitable for your purposes and requirements. In addition, if you have needs or problems that need to be answered, please contact idichthuat through the hotline number to receive the most detailed explanation. Thank you for reading! (Refer Korean translation price prestige, professionalism, best price today)