Top 5 most prestigious English translation quote companies in Hanoi
With the current integrated economy, the demand for translation is extremely large. Translation companies were born to support companies or individuals with increasing translation needs. How to choose a reputable and quality translation place?
If you are looking for a translation company, you can refer to it Top 5 most prestigious English translation quote companies in Hanoi.
Idichthuat
Mention the list Top English translation companies in Hanoi it must be mentioned Idichthuat. This is the "leading" unit in the field of translation and owns the most professional and largest translation team today. Idichthuat is always an "ideal" destination for customers to use English translation services here.

Advantages of Idichthuat:
There are branches in all 3 regions of Vietnam - convenient for working online and in person.

Support from 5%-10% service fee for students and people with difficult circumstances.

Owning an English translation team including 30 Official Translators and more than 100 collaborators spread across all 3 regions.

Idichthuat is the first unit to apply today's leading translation technologies such as the cloud system. Trados. MemoQ,..

Receive and ensure quality for specialized documents such as: medicine, IT, marketing, math, religion, video - film - clip, ...

Commitment to refund customers when the translation has errors greater than 10%.

Our dedicated team of consultants are ready to assist you 24/7.

There are additional accompanying services such as: notarization, consular legalization, copy of the original, ...
English translation prices at Idichthuat

Translate from Vietnamese to English

35.000 VND / standard page and 80.000 VND / specialized page

Translate from English to Vietnamese

35.000 VND / standard page and 80.000 VND / specialized page
Contact Idichthuat
Head Office: 228 u Co, Quang An, Tay Ho, Hanoi Hà

Ho Chi Minh Branch: No. 42, Street 32, Quarter 6, Phuoc Long B Ward, District 9, City. Ho Chi Minh

Da Nang Branch: 33/5 Vo An Ninh, Hoa Xuan, Cam Le, Da Nang

Hotline: 0983.106.550

Email: dichtot@gmail.com

Website: idichthuat.com
24h Notarized Translation
Notarized translation 24h is the first choice for Top 5 most prestigious English translation quote companies in Hanoi. With more than 15 years of experience working in the field of translation, this place has become a trust for customers, always bringing the perfect and best services. The company also contributes to providing rich and diverse information and news, contributing to bringing customers the most core values.
Customers trust choosing 24h notarized translation because it has a team of highly qualified, professional, enthusiastic and friendly staff. Competitive prices in the market and guaranteed quality are always stocked before translation. The company also supports and advises customers 24/24, even on holidays, holidays and New Year. Has the best lifetime warranty, care and after-sales service on the market.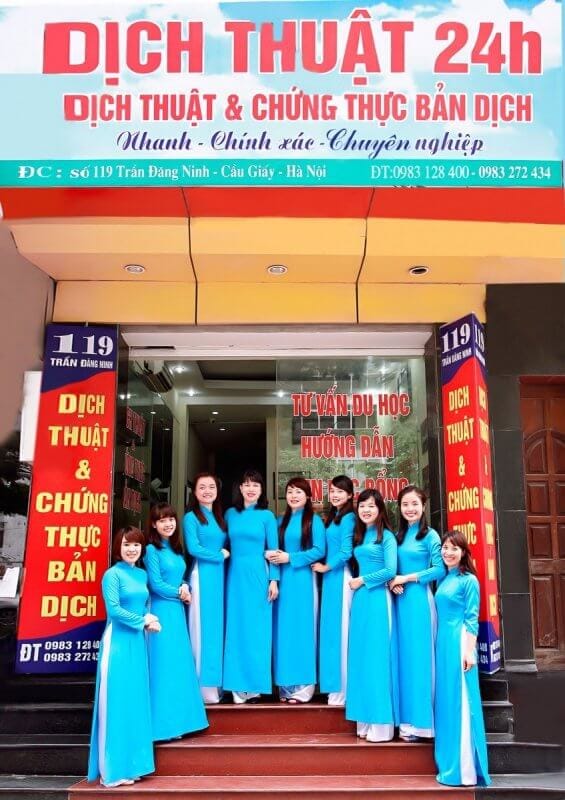 The main services provided by notarized translation 24h include:
Notarized translation in many languages ​​and fields.

Provide interpreters for seminars, cabin interpreters, serial interpreters.

Service of making copies of originals of all kinds of records and papers
The translation price of 24h Notarized Translation from English to Vietnamese or vice versa is 60.000/page
+ See more articles: Translators: Top 06 Useful Tips Lời
Tran Phu Translation & Notarization
Owning a team of staff with university degrees or higher, with deep expertise in the field, customers are completely assured of the quality of the translation here. The staff are professors, doctors, lecturers of universities. Or collaborators working at Embassies, Ministry of Foreign Affairs, Research Institutes, capable and specialized foreign experts. Therefore, Tran Phu Translation & Notarization deserves to be in Top most prestigious English translation quote company in Hanoi.
The communication system is established using the most modern technology platform to respond quickly to all customer requirements on a global scale. This place receives translations, interpretations, notarized translations... in over 53 languages ​​English, Chinese, Korean... Tran Phu Translation and Notarization is always committed to customers to produce the best quality translation works. With unbeatable prices.
The price for translation from English to Vietnamese or vice versa here is 50.000/page.
Harvard Translation Company
HAVARD Translation Company specializes in providing translation services, notarized translation and multilingual interpretation. Harvard is always committed to quality assurance, fastest speed to bring the best economic efficiency to customers. The staff here are experienced translators & interpreters, knowledgeable in language knowledge and specialized in translation.
Services include multi-language, multi-field translation, notarization, foreign language training, etc.
With a price 10-20% lower than other translation companies and tested if cooperating for the first time through trial translations… You will quickly have the required translation. That is one of the benefits when customers choose to come to Harvard translation.
Harvard's price: translating English into Vietnamese or vice versa with a page of up to 300 words has a price of 40.000-60.000.
+ See more: Dictionary of translation of legal documents - legal
Persotrans . Translation Company
This is a company specializing in providing multilingual translation services with great reputation in Hanoi. Persotrans always brings customers the best quality translation services. As a company at the forefront of technology applications, always trying to improve the quality and convenience for customers..
With long-term experience in the field of translation and document processing, reputable and quality translation services, and a place of trust for domestic and foreign partners, fully meet the volume of data. big small.
Perfect translation quality, fast completion time, enthusiastic support and very competitive prices are the outstanding advantages of Persotrans Translation Company.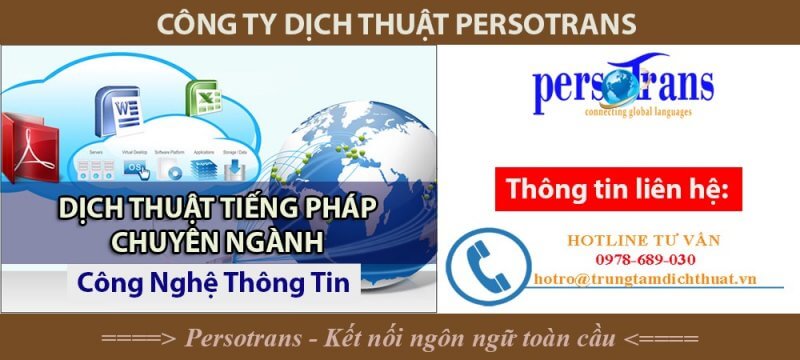 The price of translating a page from English to Vietnamese or vice versa ranges from 30000VND-60000VND/page.
+ See more: Specialized Translation Services
Hanoi Bach Khoa Translation Company
With the effort and always trying for 20 years in the profession, up to now, Hanoi Bach Khoa Translation Company has become a trust for all reliable partners such as: Center for bidding and managing public projects. Hanoi Housing Construction Company, Hanoi Department of Planning and Investment, Sony Viet Nam Company, etc.
With the motto of always putting quality first, doing it quickly, accurately, safely and securely, we always bring customers the most satisfaction.
With very competitive prices, you can rest assured when choosing this place. Coming to Hanoi Encyclopedia Translation, customers will receive translation advice and answers from specialists online. You will be satisfied with the quality + form of translation + accurate time.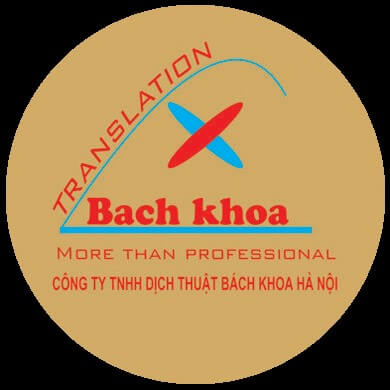 The price for an English translation page is from 30.000 VND to 50.000 VND/page
Above is Top translation companies and the most prestigious English translation quote in Hanoi, please save it when needed.
Refer to other articles: