Interpretation is a form of verbal or gestural translation, which occurs in the communication of different languages ​​in a direct manner. This is the process by which one person repeats what the other person says in another language. Interpreting comes in many different forms depending on the context and needs of the situation. Below is a brief overview of the six main types of interpretation (parallel, serial, escort/travel, whisper, telephone, on-demand phone).
1

Simultaneous Interpreting

In parallel interpretation, the interpreter must translate the sentence into the target language and must also hear and understand the next sentence. Strictly speaking, "simultaneously" is an incorrect word: because interpreters cannot start translating until they understand the full meaning of the sentence.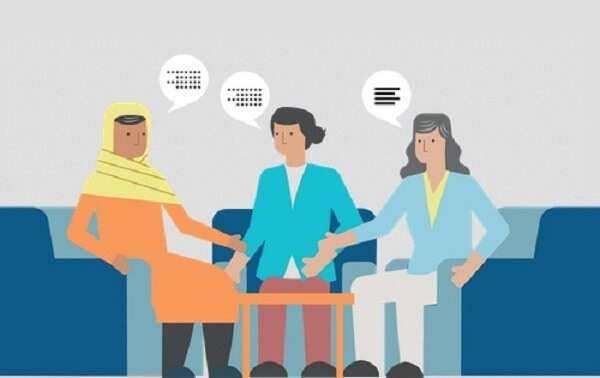 Parallel translation is the process of processing and remembering the words spoken by the source language speaker, and at the same time speaking in the target language the words that the speaker said 5-10 seconds ago. The goal of parallel interpretation is not to reinterpret information in a different way, but to accurately convey the other's statement.
Note: 6 most useful tips for interpreters
Parallel interpretation is used for large meetings, conferences or trade shows (This type of interpretation is similar to UN interpretation). Usually, when performing this form of interpreting, the interpreter sits in a booth wearing a headset and speaks into a microphone.
The interpreter must be definitive; because time is very limited and does not allow translators time to consider choosing words that match the source translation. If there is a delay, even by a few seconds, the translator will miss some of the later parts of the exchange.