Currently, the comprehensive exchange between Vietnam and other countries in the world is constantly increasing. Therefore, the need for language translation and localization becomes necessary in all industries and jobs.
If you have a lot of important documents and papers to translate but do not know which translation company to choose, please refer to the Top 5 translation companies in Ba Dinh district right below.
1

Ba Dinh translation

Ba Dinh Translation Services specializes in providing high quality communication solutions and professional language services in many fields. (English, Spanish, Portuguese, French, German and Italian)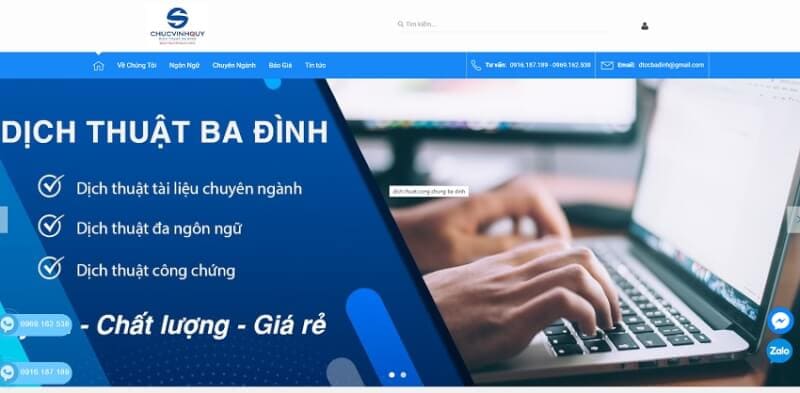 The strongest translation fields of Ba Dinh Translation include Marketing, Medicine, Law, Information Technology, Human Resources, Games. Ba Dinh Translation owns a network of more than 150 skilled and experienced translators – the leading translators in the industry. All of Ba Dinh Translation's translators are recruited and selected through an extremely rigorous process to ensure the best possible service.
Main service:
Specialized document translation

Multilingual translation

Notarized translation

Other services…
Contact
Location: No. 6/12 Alley 5, Lang Ha Street, Hanoi

Website:

https://dichthuatbadinh.com/
2

VHD Ba Dinh - Dong Da translation office

VHD Translation Office provides quality-assured translation and language localization services with ISO 9001:2015, ISO 17100:2015 and EN15038:2006 certifications for the global life sciences industry and many other industries. .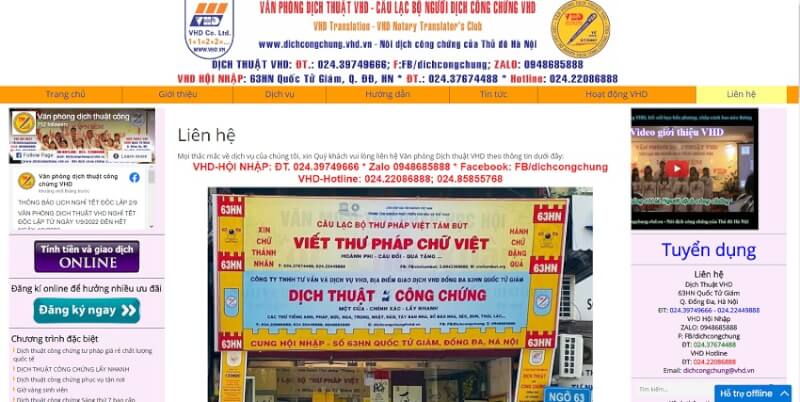 The professional team of VHD Translation Office knows the unique language and terminology. Familiar with the regulatory requirements and standards you need to ensure, we provide the highest quality translations at the most competitive prices as well as the fastest completion times.
Established in 2015, VHD Translation Office is a translation service provider specializing in meeting strict requirements, completing quickly and cost-effectively. VHD translation office applies a fast, modern translation method, facilitating to solve any translation challenge.
Main service:

Notarized translation

Specialized translation

Multi-language translation

Consular authentication

Certified true copy

Other add-on services



Contact
Location: 63HN, Quoc Tu Giam, Ba Dinh, Hanoi, Vietnam

Website:

http://dichcongchung.vhd.vn/lien-he/
3

Asian notarized translation and interpretation company

Asia Notarized Translation and Interpreting Company is one of the leading language translation and localization companies with many offices in Hanoi.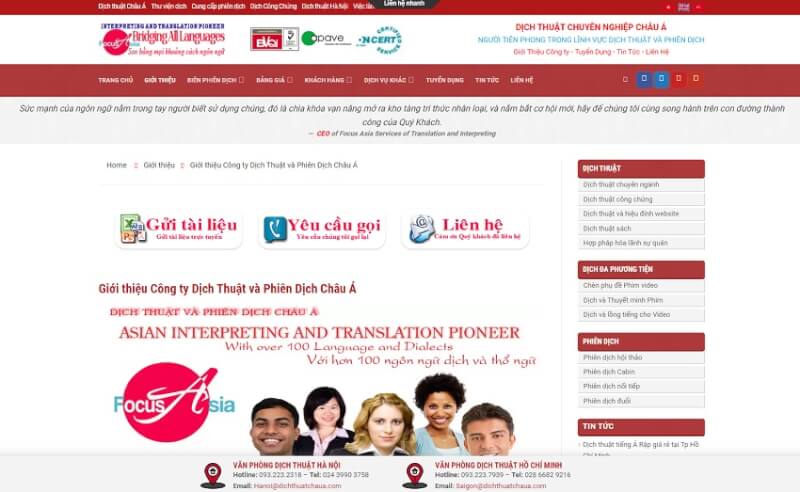 Thanks to a network of over 200 professional translators, Asian Interpreters is one of the leading translation agencies in the market today.
Asian Notary Translation and Interpreting Company not only meets the strict requirements of customers, but also has many great incentives for customers using the service. You can safely entrust your important documents and records.
Main service:
Translation: specialized, notarized, edited websites, books

Consulate legalization

Multimedia translation: insert video subtitles, translate and voice over movies, voiceover

Interpreting: workshop, cabin, serial…

Translation English, Japanese
Contact
Location: 38 Nguyen Thai Hoc Ward, Dien Ban, Ba Dinh, Hanoi 100000, Vietnam

Website:

http://www.dichthuatchaua.com/gioi-thieu-cong-ty-dich-thuat.html
4

Notarized translation Wish Vinh Quy

Chuc Vinh Quy Notarized Translation was established in 2017 and from the very beginning, has focused on developing a strong human resource team fully equipped with specialized knowledge and skills, able to provide top-notch services. for customers.
These efforts translate into the company's ability to handle large multilingual projects, supporting thousands of customers with diverse needs..
Chuc Vinh Quy notarized translation has a strong position in the market as one of the few companies that not only provides translation, electronic and technical translation services in many languages, but also utilizes intelligent system to do it. With sustainable management and great information technology potential, Chuc Vinh Quy aims to expand its operations to handle complex localization projects and support customers with diverse services. possible.
Main service:
Professional translation

Multilingual translation with over 40 languages

Specialized document translation

Notarized translation

Consular authentication

Other services
Contact
Location: No. 6 Ng. 5. Lang Ha Ward, Coconut Market, Ba Dinh, Hanoi, Vietnam

Website:

https://dichthuatchucvinhquy.com/
5

Translation company Idichthuat

Translation company Idichthuat is a fast-growing language services provider offering a wide range of multi-disciplinary language solutions for businesses, tailored to small and medium-sized businesses as well as corporations and governments. , an educational and nonprofit organization 24/7 in more than 100 different languages.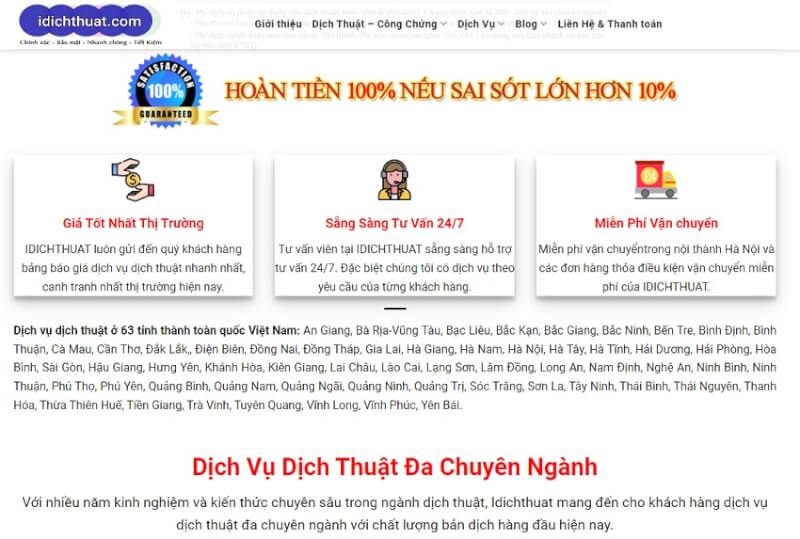 today, Idichthuat is rated as one of the leading reputable translation companies in Hanoi, has many operating facilities and is ready to support services for customers in Hanoi as well as surrounding areas.
Working process of Idichthuat consistently quality assurance, based on ISO 17100 to ensure high standards of performance and customer satisfaction. Documents and records of customers when working at Idichthuat always processed in the shortest time and with high accuracy, ensuring confidentiality and safety.
If you are looking for a reputable translation service, quality but reasonable price, then Translation Company Idichthuat is an option worth considering.
Main service:
Notarized translation

Proofreading translations

Professional translator

Video translation, subtitles

Translating industry documents
Contact
Location: 63 Nghi Tam, Tay Ho, Hanoi

Website: https: //idichthuat. Com /
Above is some information about Top 5 reputable translation companies in Ba Dinh, hopefully useful for you. If you still have questions about related issues, please contact us immediately – Idichthuat for a quick consultation and quote. And you are looking for red book making service, transferred to the red book in Ba Dinh district Then you can contact the CVN notary office in Nghi Tam.