You are looking for a reputable translation company to localize your documents and records but do not know which company to choose with low price.
Then the following article is for you. Let's Idichthuat Find out about the Top 5 translation companies in Tay Ho district right here?
1

T&RED Translation

T&D Translation is one of the leading prestigious language translation and localization companies in Hanoi. The company was established in 2017 with a team of talented and professional translators.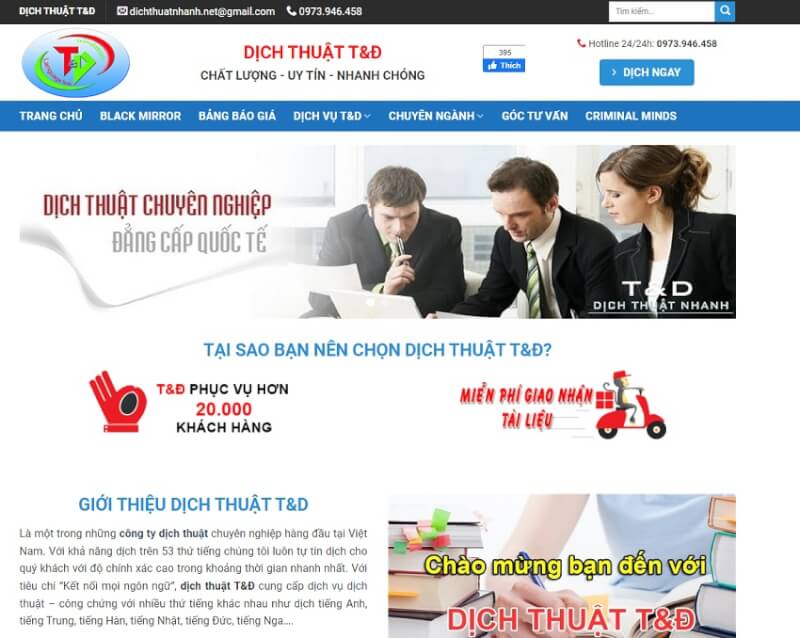 The translators and interpreters at T&D Translation are highly qualified and will provide translation, transcription and proofreading services to customers.
T&D translation serves many companies and businesses in different fields including business, healthcare and education, etc.
T&D Translation specializes in translating and localizing documents related to technology and healthcare with the following criteria:
"Speed ​​– Professionalism – Determination"
Due to many operating facilities and wide service network, T&D Translation is able to support customers in all districts in Hanoi.
Contact information:
Facility 1: 453 Tran Khat Chan, Hai Ba Trung District, City. Hanoi

Facility 2: 727 Giai Phong, Giap Bat, Hoang Mai District, City. Hanoi

Phone number: 0973.946.458 – (024)62.938.098
2

Asian Professional Translation

Asian Professional Translation is a company specializing in providing language translation services in Vietnam. The company was founded in 2007, has more than 80 employees providing translation, business consulting and transcription services to diverse fields such as life sciences, legal, games, manufacturing, hotels and banks and financial…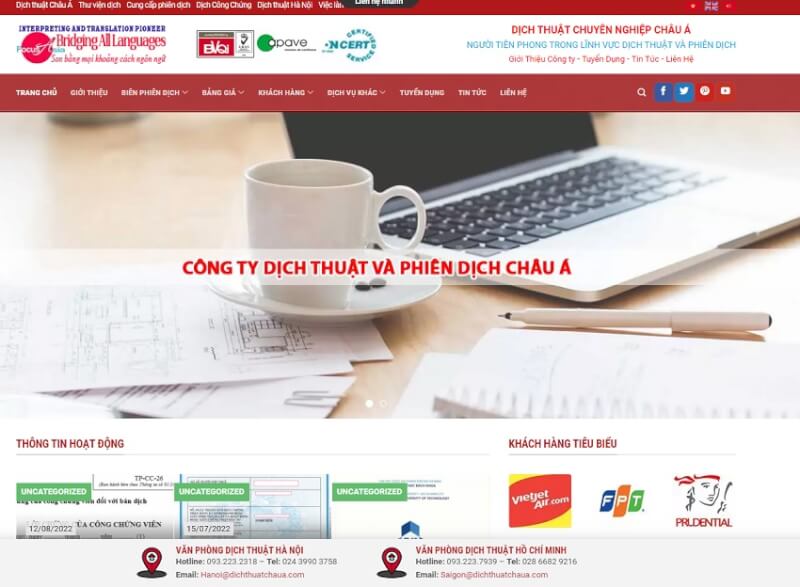 Asian professional translation always receives the favor and trust of most customers by various translation services, professional document editing and proofreading services. The company always delivers the goods according to the expectations and requirements that have been given, and completed on time as requested by the customer.
"Very good responsiveness and accuracy." is the feeling of customers who have experienced the service at Asian Professional Translation.
Contact information:
CS 1: 34 Nguyen Thai Hoc Street, Ba Dinh District, City. Hanoi

CS 2: 1 Hoang Ngoc Phach Street, Dong Da District, City. Hanoi

Phone number: (024)39.903.758 – 0932.232.318
3

Hanoi Translation

Hanoi Translation is a specialized translation and interpretation company with headquarters in Hanoi and can support all clients in Hanoi and surrounding areas.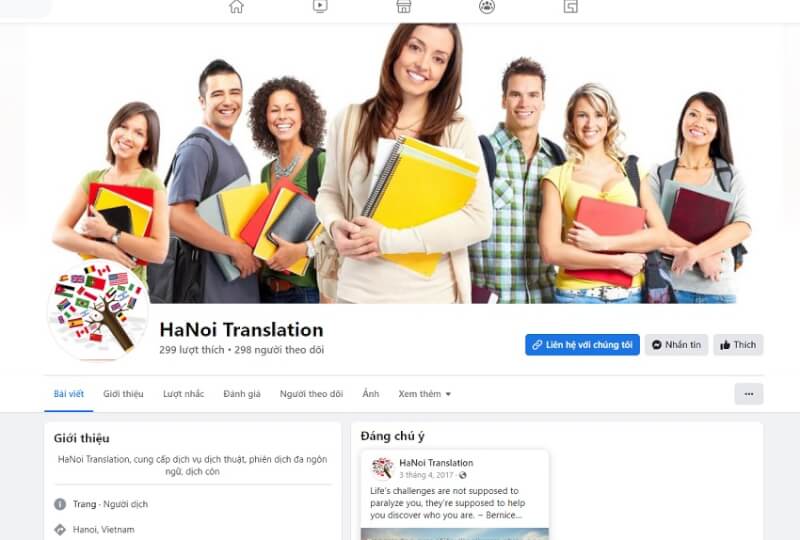 Established since 2013, with a team of hundreds of employees, Hanoi Translation specializes in providing translation and SEO solutions to clients.
The company mainly provides translation services for medical, scientific and medical researchers. All customers when coming to Hanoi translation are satisfied by the fast translation speed and perfect translation quality.
"We always respond very quickly to customer requests with the most professional services." This is the working criterion that Hanoi Translation always puts on top.
Contact Info
Address: 91 Nguyen Chi Thanh Street, Dong Da District, City. Hanoi

Phone number: (024)66.552.626 – 0987.222.323
4

Company Idichthuat

Company Idichthuat is a reputable and top quality notarized translation company in Hanoi. Established in 2012 with enthusiastic staff who always serve the best customers and the majority of customers come from many different industries. Services provided by the company include translation and interpretation, notarization.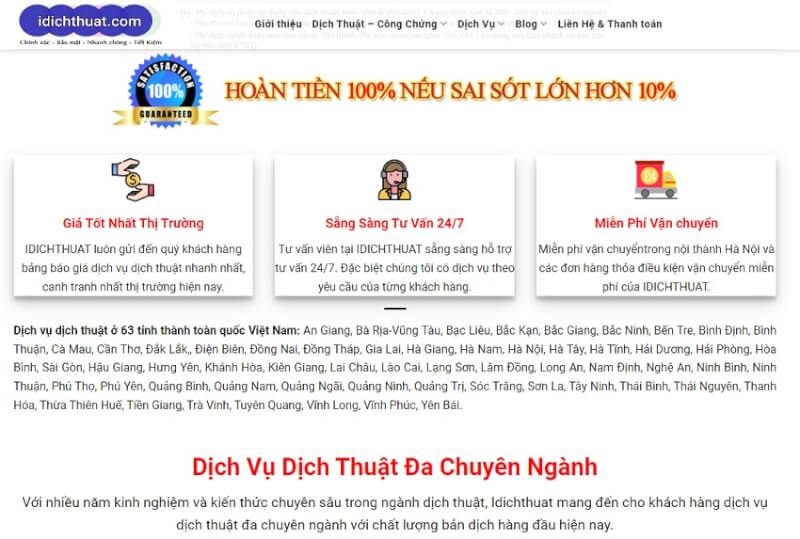 With many years of working experience and a team of professional translators and interpreters, the Company Idichthuat always ready to support and advise all customers across provinces and cities across the country. If you are looking for a reputable translation company, fast quality but affordable, then the company Idichthuat is a suitable choice.
Contact Info
Address: 63 Nghi Tam, Tay Ho district, Hanoi

Phone number: 0866.682.329

Website: idichthuat.com
5

Prestigious Vietnamese

Prestigious Viet is a company with a team of less than 50 people providing multilingual translation services, with main languages ​​such as Chinese, English, Spanish, German, etc. The company was established in 2012, has head office in Hanoi.
Prestigious Viet commits to customers the best service quality with the most competitive prices in the market.
Contact Info
Address: 142 Le Duan, Kham Thien Ward, Dong Da District, Hanoi.

Phone number: 1900 633 303
Above are the Top 5 leading prestigious translation companies in Tay Ho district Idichthuat Dear you. If you have any questions regarding translation services, please contact us immediately for the fastest advice and support.