The development of exchanges and cooperation between Vietnam and countries around the world is increasing, leading to the birth of a series of translation companies. This is because language translation is the bridge for countries and businesses to come closer together, eliminating distances and language barriers.
Let Idichthuat Introducing to you the Top translation companies in Hoan Kiem district, these are the top quality prestigious translation units in Hoan Kiem district today.
1

International Translation Company (INTRACO)

When it comes to translation companies in Hoan Kiem district, Intraco International Translation is definitely a name not to be missed.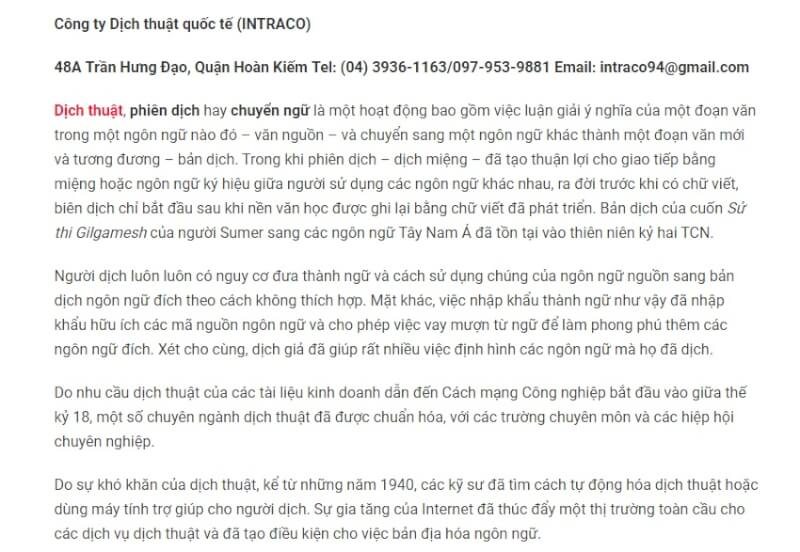 Established in 2010, with more than 10 years of experience, Intraco has built up a team of high-quality, high-quality translators and interpreters. Intraco supports thousands of customers every year and completes tens of thousands of translations in many different languages.
IntracoIntraco provides highly effective multilingual translation and language services at reasonable prices to customers throughout Hanoi and mainly in Hoan Kiem district. Intraco's translation service system spans all industries, focusing on the technology sector, as well as government, education, organizations, agencies and a number of other industries.
Besides, International Translation also provide other services such as: Notarized translation, consular legalization, Visa declaration, copy of Vietnamese & foreign language copies, consultation on application submission & embassies (free of charge), ..
Contact Info
Address:

48A, Tran Hung Dao, Hang Bai Ward, Hoan Kiem District, Hanoi

Phone number: 024 39361163
2

Thang Long Translation Company

Thang Long Translation Company is an experienced company providing translation services and consular legalization, notarized translation in Hoan Kiem as well as most districts in Hanoi.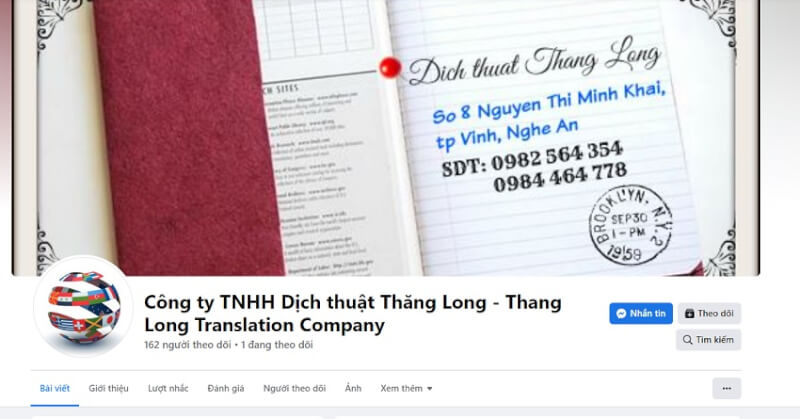 Always smiling and positive, well organized and responsive – that's the working motto and way of handling work of Thang Long Translation when receiving requests from customers..
The main activity of Thang Long Translation Company is to provide professional translation and interpreting services, including simultaneous (conference) and consecutive interpretation as well as transparent assistant interpreters. business meetings, training sessions or press conferences…
With diverse services, quality translations, good service attitude as well as reasonable prices, Thang Long Translation deserves to be in the top of the translation companies in Hoan Kiem district today.
Contact information:
Address: 84 Hai Ba Trung, Hoan Kiem District, Hanoi

Phone number: (04) 3936-1066/090-474-1783
3

Tuan Dung Translation Company

Working in the field of translation for many years, Tuan Dung Translation has built a certain foothold in the market as well as the trust of customers when experiencing the service.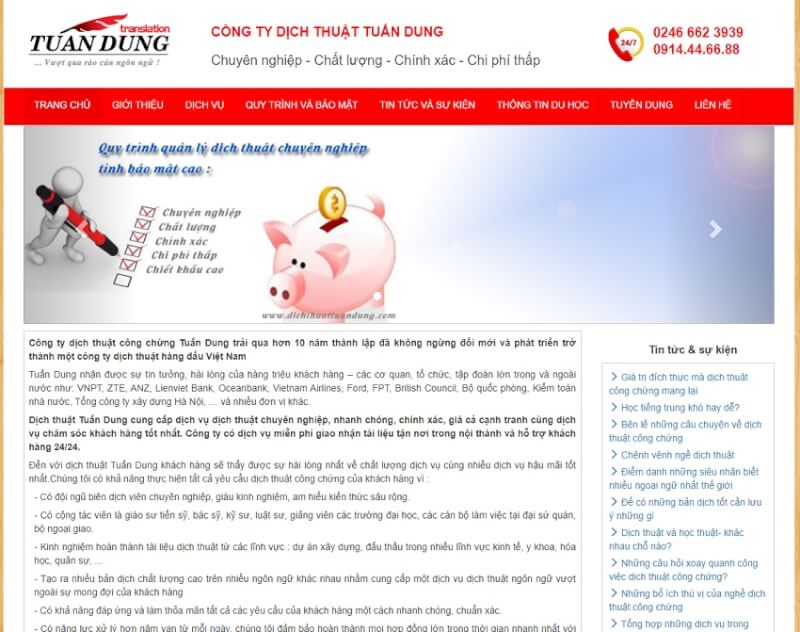 Tuan Dung Translation's most prominent service is notarized translation, established in 2020 and headquartered in Hoan Kiem. Tuan Dung Translation specializes in providing notarization services related to many different fields such as legal, study abroad, medical ...
Since 2015, Tuan Dung Translation's 50-person staff has worked with a wide range of different large companies in 63 provinces and cities in Vietnam. Therefore, you do not need to worry about any problems related to distance and travel. Tuan Dung Translation is committed to supporting you, consulting 24/7 no matter where you are.
Contact Info
Address: 52D Hai Ba Trung, Hoan Kiem District, Hanoi

Phone number: (04) 3934-6557/6662 3939/091-444-6688
4

Translation company Idichthuat

Translation Idichthuat was established with the goal of providing translation services to corporate clients as well as private clients. In addition to translating all kinds of documents, Translation Idichthuat added a translation service to its product in 2015, adding transcriptions and subtitles in 2018.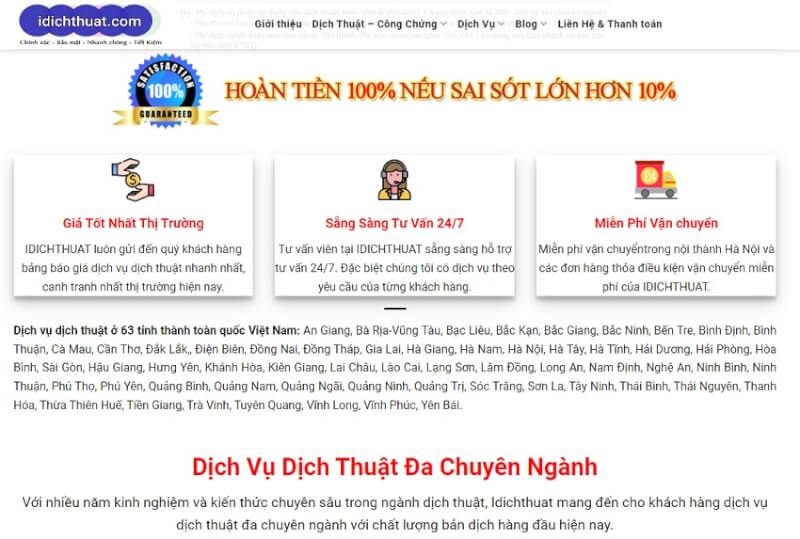 Translation Idichthuat always try to focus unceasingly to provide high quality translations at competitive prices. Idichthuat build and maintain close partnerships with customers and provide flexible and innovative solutions for each customer's specific language needs.
To further improve the service, next to the head office in Tay Ho Hanoi, Translation Idichthuat has also added offices at some points in Hanoi as well as supporting online services.
Idichthuat Ensure translation, reverse translation, editing/editing, voiceover recording, transcription, video subtitles, language assessment, cultural consulting, quality management, dissertation.
The system of translators and interpreters at Idichthuat carefully selected and trained. They all have a lot of experience in the field of translation as well as specialized knowledge. Therefore, all your translations when sent to Idichthuat are handled quickly, meticulously and with the utmost precision.
Contact Info
Address: 63 Nghi Tam, Tay Ho, Hanoi

Phone number: 0866.682.329
Posts on here, Idichthuat introduced to you the Top prestigious translation companies in Hoan Kiem district. If you still have any questions related to translation services, please pick up the phone and contact us immediately for the fastest and most accurate advice.