Language translation is a profession that helps countries around the world communicate with each other. The introduction of translation companies helps to solve the problems of language barriers and contributes to economic and social development.
Top 5 companies, quotes for English translation in HCM
Ho Chi Minh City is the economic center of the country, so the demand for translation here is very large, so there are many translation companies here. Choosing a place to trust to hand over translated documents is very difficult for people in need because there are many options.
To solve this difficult problem you can refer to Top 5 companies, quotes for English translation in Ho Chi Minh City most reputable we have put together to support you.
1

Idichthuat

Idichthuat Officially put into operation since 2012. In the Vietnamese Translation village, Idichthuat has always been the leading unit in translation-related fields. After nearly 8 years of building and developing a translation apparatus following the trend of internationalization, Idichthuat is currently a translation unit with a strong influence in the industry English translation service nowadays.

Advantages of Idichthuat:
There are branches in all 3 regions of Vietnam - convenient for working online and in person.
The English translation team includes more than 100 Official Translators and more than 200 collaborators both at home and abroad.
The most closed and professional translation process today
Idichthuat is the first unit to apply today's leading translation technologies such as translation memory, cloud system. Trados. MemoQ,..
Commitment to refund customers when the translation has errors greater than 10%.
There are additional accompanying services such as: notarization, consular legalization, copy of the original, ...
English translation prices at Idichthuat
Translate from Vietnamese to English
35.000 VND / standard page and 80.000 VND / specialized page
Translate from English to Vietnamese
35.000 VND / standard page and 80.000 VND / specialized page
Contact Idichthuat
Head Office: 228 u Co, Quang An, Tay Ho, Hanoi Hà
Ho Chi Minh Branch: No. 42, Street 32, Quarter 6, Phuoc Long B Ward, District 9, City. Ho Chi Minh
Da Nang Branch: 33/5 Vo An Ninh, Hoa Xuan, Cam Le, Da Nang
Hotline: 0983.106.550
Email: dichtot@gmail.com
Website: idichthuat.com
2

Saigon Asia Translation Company Công

Saigon Asia real translation company is one of the companies that achieve international standards in Vietnam. The company owns a team of translators with high enthusiasm, deep expertise, knowledge of the specialized field and many years of experience.

The company is currently a partner with large corporations and companies such as: Samsung Vietnam, Standard Chartered Bank, HSBC, POSCO… Besides, the company also provides interpreter/translator services for associations. conferences and seminars with more than 80 languages ​​and dialects of the territories.
In addition, with the application of scientific and information technology advances, it helps to reduce transaction time, increase convenience and accuracy of customers.
The quite favorable and attractive translation price is also an attractive point of Saigon Asian translation. For example, the translation price for an English to Vietnamese page ranges from 35.000-50.000/page.
3

Lac Viet translation

Currently, in the translation market with great reputation, it is impossible to mention Lac Viet translation. Lac Viet Translation is the most trusted and reputable translation company in the multilingual translation and interpretation industry in many specialized fields in Vietnam. Lac Viet Translation provides professional services including translation, interpretation, fast notarized translation, document editing, subtitle film translation.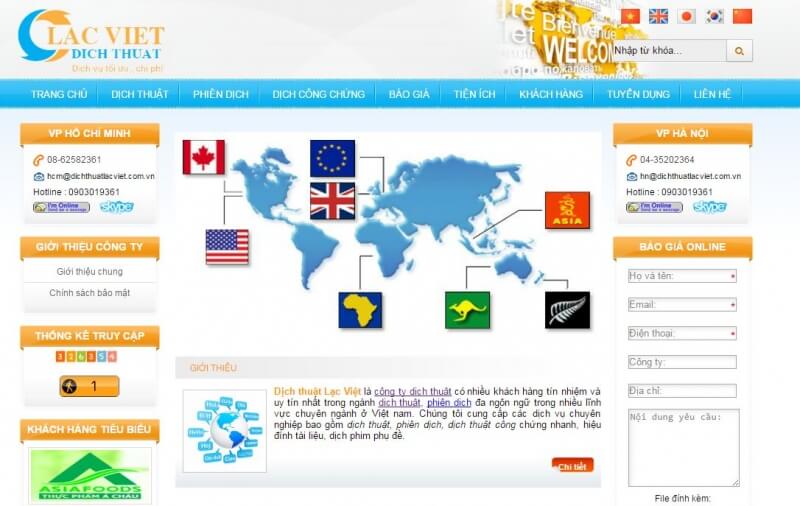 Lac Viet's partners are large corporations and companies such as: Vietnamese American English Association, Dong Du Japanese Language School, Vinaphone, Samsung Electronics, Ministry of Health, Ha Tien Cement, SJC Gold Company, Fiditour, Bank Sumitomo Corp, Big C, RMIT University, Mobile World, Mizuho Bank, Foster Electronics, Nippon Paint Company, Construction Materials Corporation, Ministry of Construction, VCB Bank and hundreds of thousands of customers other goods.
With a staff of highly trained translators and interpreters, the translation ensures high quality standards. The company has a strict process of document appraisal, translation, proofreading, translation approval and delivery to the customer to create the most perfect translations.
Lac Viet Translation guarantees to provide services to customers with the most competitive price in the market from only 40,000/page.
4

Interprotrans International Professional Translation Company

Interprotrans International Professional Translation Company will meet the quality and fastest time and the most competitive price to ensure the success of the projects and the progress of the client's work.

The company is always the first and prestigious choice for translation services. Owning a staff of translators who specialize in each field, with many years of experience. And with the same enthusiasm for their work, they will bring you results that satisfy customers.
Come to Professional Translation Company Interprotrans international you will surely be satisfied with the attentive service, perfect quality and affordable price from 40,000/page
5

Ho Chi Minh City Translation Research Association

One of the pioneers in the translation industry in Saigon is the Translation Research Association, which has been established for more than 40 years. With such a large age, you understand that this place has gathered quality professionals. With a large number of intellectuals, trained from many sources, experienced, dedicated, sensitive, qualified to meet translation requirements.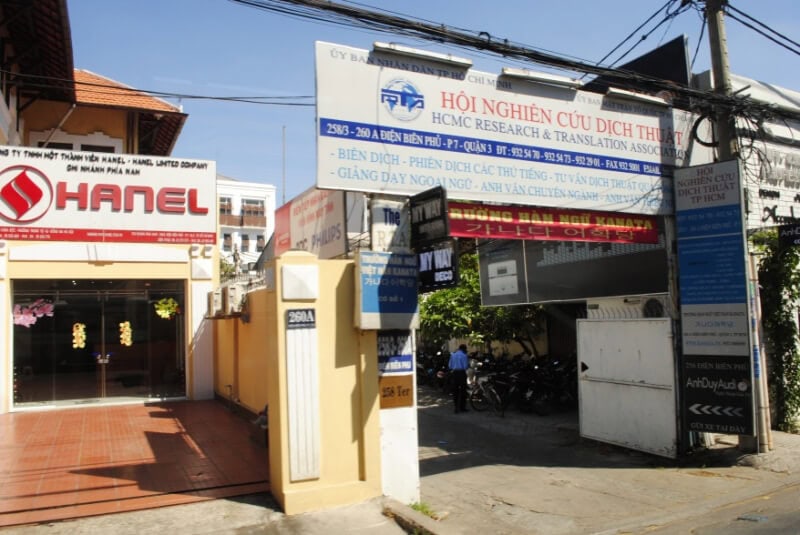 The association's major partners are: Sacombank, Viet A Bank, Mekong Delta Housing Development Bank, Domesco Dong Thap, An Phu - Dong Thap Seafood Company, IOM, Metro, Linfox Logistics Company, JICA, Super Star, Vinaco, City Plant Protection Company. Ho Chi Minh City, Saigon Tourist Company, Ho Chi Minh City People's Court.
For an exact price for the type of document you want to translate, please contact the Ho Chi Minh City Translation Research Association. Surely you will be satisfied when you receive the results here.
6

Inter-oceanic translation

Lien Dai Duong translation service, belongs to the corporation with 15 years of experience in the field of translation. The company owns a strong team of translators who are qualified professionals, fully equipped with knowledge. specialized knowledge, software, tools to support translation, perfectly meet the requirements of customers.

Strict execution process, good service quality, perfect results and attractive prices are the strong attractions of Lien Duong Translation. For an accurate quote for the document you want to translate, please contact us for a direct quote.

With Top companies, the above English translation quote in HCM hopes to help you in finding the best translation place.