Although clients are not familiar with these three acronyms, TO, TE and TEP play an important role in the results of translated content as well as the workflow of any localization and translation agency. . TO, TE and TEP refer to the three basic levels of a translation project namely Translation Only, Translation and Editing , and Translation, Editing and Proofreading respectively.
You may ask: Why are there three different levels? What exactly do they mean? And how can you choose the best level for your existing files? Well, in this article, we will go into detail about each level and find out which one is the best fit for your projects.
Note: Specialized document translation in English, Chinese, Japanese, Korean, French, German, and Russian
Only Translate – TO:
As the name itself says, Translation Only (or TO) involves only one native and experienced translator in the entire process. Translators translate, localize or translate the source code into the target language using CAT tools and then review it themselves before sending it to the client.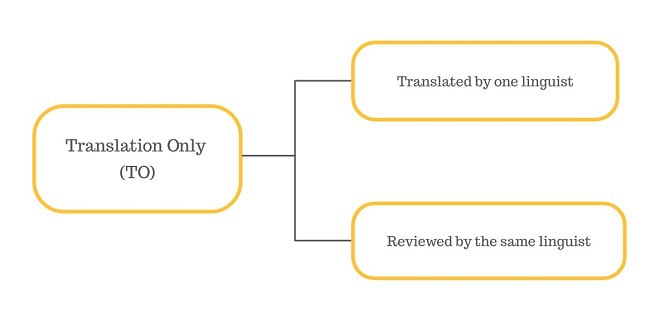 Why choose only translation?
Low Cost – If you are on a tight budget, translation just might be the best fit for you. Rate of Translation Only Projects is significantly lower than other levels because you only pay a linguist (and some fees to the translation company you work with).
Fast turnaround time – Without editing and proofreading steps, a Translate Only project can be delivered in a short time, from within a day to several days involved.
Limit
Since only one linguist processes the entire source file, some errors can be found in the final translation result. It is not because the task is handled by an unqualified translator. The reason is that humans sometimes make mistakes.
It is understandable and unavoidable. To solve this problem and provide clients with the best value, a trusted translation agency typically assigns Translate Only tasks to reviewer-level translators, i.e. linguists. high school. So make sure you ask your translation company for a highly qualified and experienced linguist for your translation only project.
Note: Film; Video Clip; Subtitle; Voiceover Translation
When should you use Translation Only (TO)?
Only suitable translations for internal documents and single-use content such as internal reports, presentations, social media posts, etc.
When you are on a tight budget or you are in a rush for translation, Translate Only can be an acceptable option.
Translation and editing – TE:
At the Translation and Editing level, your files are in the good hands of two different linguists. The first linguist to render content from the source language to the target language. The second linguist reads the translated file and compares it with the source file for possible errors and makes changes regarding the following:
Wording or language errors

Structure of sentences

Conflict

Terminology misused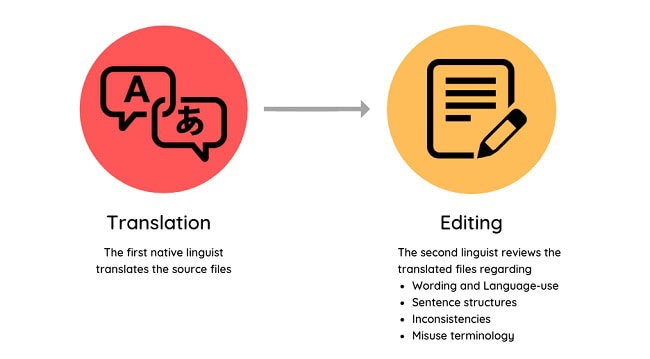 This process includes two opinions, or four eyes, so that the quality of the translated files is guaranteed. Acceptable cost and turnaround time. In summary, this level is the most preferred option for most customers due to the balance between quality, cost and turnaround time.
Note: About Translation Company IDichThuat
When should you use TE?
The translation and editing level works best for external publications such as pitch presentations, external reports, or marketing materials with a low image-to-image ratio.
This option is suitable for medium budget projects.
Translate, edit and proofread – TEP
Like the Translating and Editing level above, the source files are first translated and edited by a native translator and another editor. In the third step, a proofreader revises the file. Unlike editors that read and compare the destination file with the source file, proofreaders only read the final layout version to ensure smoothness and visuals. It is highly recommended that the first two steps be done in CAT tools, and the last step requires a review in context (review the final format).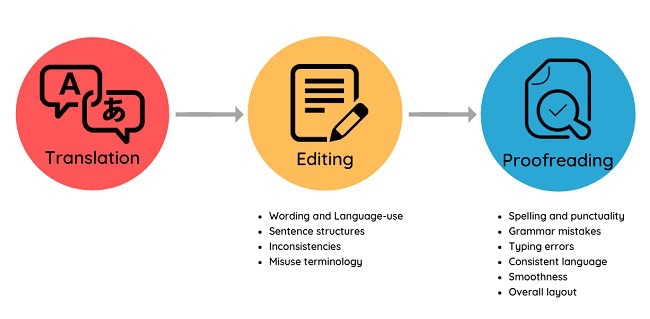 Why choose TEP?
When you receive the final documents, no changes are required. The file is ready to publish. The content is well taken care of and the layout is adjusted to the length of the target language.
Limitations of TEP
High Cost – Cost should be the first factor you should consider. Translation agencies charge significantly more because they have to pay three linguists for the project. But you get what you pay for. The quality of the final files certainly outweighs the high cost.
Slow turnaround time – Since the process requires three linguists (excluding the contact support PM team), you may not be able to receive the files for a short time. It may take days or weeks depending on the volume of the projects. So unless you're in no hurry, you should consider this option.
Note: Quick Notarization Service Quotation in Hanoi
When should you choose TEP over TE and TO?
TEP level can be the best choice for high visibility materials and important marketing materials, e.g. brochures, websites, mobile apps, etc.
If you are allocated a limited budget for translation projects and the timeframe is quite long then we recommend you to choose TEP for best results.
You are viewing the article Interpretation: What are TO, TE, and TEP in Translation? then there is a lot of other knowledge in translation and you can find it in the section sharing translation experience of translation company we.
If you are concerned about service issues, you can contact Idichthuat for advice. Services specialized translation We are very confident in our ability translator - translator can handle well.
Contact us today for the fastest service quote and consultation.