Professional - Accurate - Quick - Cheap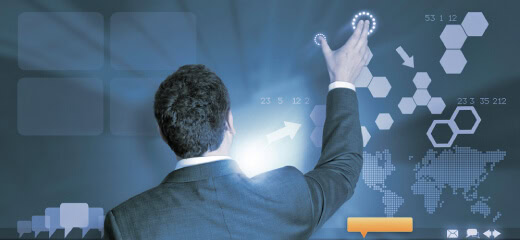 These are the PROBLEMS you need to encounter?
+ You find the Video Clip material good but unfortunately it no subtitles included to be fully understood!
+ There are many great training and instructional audio files for your learning process and you need to understand them all, understand them correctly!
+ Translation work takes a lot of your time and effort!
And you worry!
+ Do I really understand the material presented correctly?
+ I want to focus my time and efforts on my right specialty.
+ The current translation price is too high!
Translation of movies, subtitles or video clips is a translation field tính FIT, so in addition to the accuracy factor, the translator also has to convey content that is suitable for the audience.
idichthuat.com was born to solve your problems, questions and concerns
We specialize in movie, subtitle, video clip translation for individuals & organizations Guaranteed quality and super competitive price.
Chuẩn dịch thuật viên tại idichthuat.com:
Academic level

- Bachelor

- Masters

- Doctor

Specialized

– Business Administration

- Commerce

- Biotechnology

- Information Technology

- …….

Graduation from School

– International University (VNU HCMC)

- University of Science and Technology (VNU HCMC)

– University of Economics and Law (VNU HCMC)

– Saigon University

– University of Medicine and Pharmacy in Ho Chi Minh City

- University of Technology and Education

– Can Tho University

- Vietnam RMIT University

English Degree

- IELTS ≥ 7.0

- TOEFL IBT ≥ 79

- National Degree type C

- TOEIC ≥ 850

- English Specialization

- English Academic

– English for Study Abroad and Settlement

- Reference to English Speaking Club

Practical experience

- More than 4 years working and translating difficult documents

- Having scientific reports published in international journals

- Be working at foreign companies or large state agencies

- Experience of living, learning, education and work abroad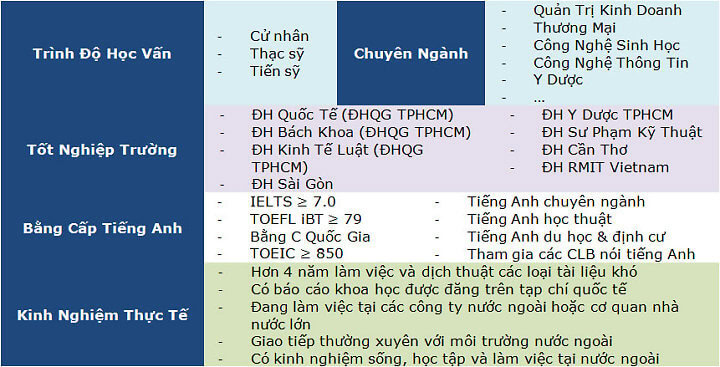 With More than 4 years of experience in working and translating our commitment standard translation of content, grammar and spelling; easy to understand, easy to read.
idichthuat.com chuyên nhận các dự án sau:
"Only receive projects ensuring 100% quality"
1 - Translation of Video Clips, instructional and training audio files.
2 - Intro movie translation, advertisement scenic spots and tourist attractions.
3 - Translating presentation content for presentations, courses, seminars.
4 - Translation Movies of all genres (with and without subtitles).

The best price for movie and video clip translation

:
Only 1 single price: 35.000 VND/min.
Additional requirements:
+ Requires a video file to translate properly.
+ Subtitle sync fee (if any): 5000 VND/minute.
+ Special: 5-10% off for students, students; bulk documents.
+ Price above VAT not included (10%) if you get the bill.
We are honored to serve you
We guarantee quality, time and absolute customer satisfaction.
The most professional - quickest - cheapest translation service of Film - Subtitle - Video Clip.
Any details, issues related to the problem cheap translation service, quality you can contact us. Because not only have and are confident about movie translation services, subtitles, video clips but also confident specialized translation in fields such as: translating legal documents, theses, essays, newspapers, diplomas... with many different languages ​​including: Vietnamese – English – Chinese – Japanese – Korean – French – German – Russian or languages ​​for which we have specialized collaborators such as Indonesian, Khmer, Laotian, Thai, Myanmar, French, Spanish, Swedish, Italian, Arabic, Portuguese, Malaysian.
See some other translation services:
Notarized Translation Get It Right In Hanoi
Cheap Notarized Translation in Hanoi
Economic essay translation fast accurate
Find out more about our specialized Film Translation service
IDICHTHUAT tự hào là đơn vị dịch phim chất lượng uy tín và chuyên nghiệp hàng đầu. Các dự án phim mà IDICHTHUAT đã dịch đã được rất nhiều khách hàng cũng như công chúng yêu mến loại hình nghệ thuật này đánh giá cao
FILM TRANSLATION
Films include many genres: feature films, documentaries, dramas, science films, historical films, cartoons... Film translation is a specialized field of translation, both expressing the artistic Because of the scientific nature as well as the requirements of each audience that the film genres are aimed at, in addition to the accuracy factor, the translator must also convey the content in the right specialty (documentary, scientific, historical ...) and must convey these contents in an inspiring, humane and artistic way. Therefore, translating movies is never an easy job.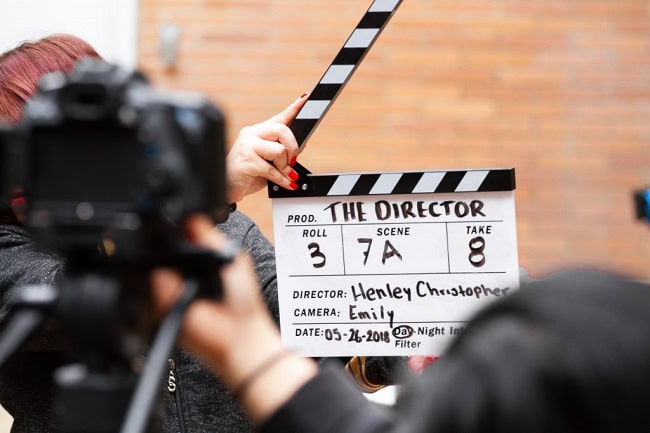 Many films with all topics covering all areas of political, cultural, social, economic, scientific and technological life have been produced by local studios but not really meet the needs of entertainment, enjoyment as well as the information needs of the public. Therefore, the number of foreign films being imported into Vietnam is increasing and occupying a large volume in the current film market in all film types. Accordingly, the translation needs to be met with the corresponding amount of imported films.
Grasp that need IDICHTHUAT always promote its strengths as a professional translation unit that has met the film translation needs of many units such as Vietnam Feature Film Studio, TW Documentary Film Studio, television stations in the country ... and film studios private. Currently, private film studios in Vietnam have become film producers and importers with increasing actual revenue. They are even more "profitable" than state-owned studios. The amount of their films imported as well as adapted into other languages ​​is also more diverse and richer.
IDICHTHUAT has implemented film translation projects for many of the above customers with a large number of quality and time assurance.
With a team of experts including technicians, project managers and translation experts with industry experience along with a professional quality management process, IDICHTHUAT successfully handled many localization projects for many domestic and foreign agencies, companies and organizations such as Ford Vietnam, Yamaha, Honda, Brainworks, Panasonic, General Department of Vietnam Customs, Habubank, Ministry of Finance Main office, Hanoi Oil and Gas Finance Company, Vietnam Intellectual Culture Publishing House, Trade Promotion Agency, FPT Online Company, Sofitel Plaza, Sheraton Hotel, CMC Technology Group, Dong A Securities Co., Ltd. , Ministry of National Defense, Ministry of Public Security... that is a testament to the success and measure of the quality of services we provide. This also means that we can completely be the film translation unit that customers feel secure to come to.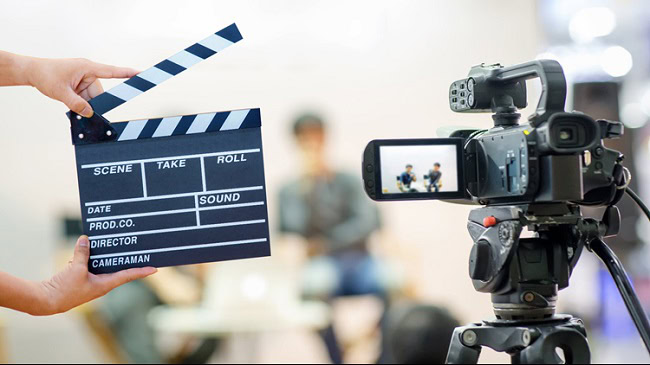 Hiện tại IDICHTHUAT nhận được rất nhiều những file âm thanh và hình ảnh với nhiều định dạng khác nhau yêu cầu chuyển dịch ngôn ngữ. Loại hình dịch và chép lại nội dung mà We regularly deploy such as feature films, TV series, reporting, documentaries, animal world films, product introduction clips, advertising, marketing video clips, radio interviews, etc.
Our regular customer is Vietnam Television Service and Advertising Center, VTV6 Vietnam Television, VTC Digital Television and some film crews, other private studios...
The process of translating and transcribing the content of film types requires to use a team of professional translators and is much more time-consuming than the regular writing.For languages such as English, Japanese, German, Russian, Chinese, we only use translators who are native speakers to create a record with absolutely accurate content. After the translation record is available, it will continue to be translated into the language requested by the customer.
Professional Audio Duplication Service
Audio transcription is the process of converting speech into written text. Audio transcription is not an easy task because many factors directly affect and challenge the listening process. In today's article, we will learn what difficult sound files are and how to make them.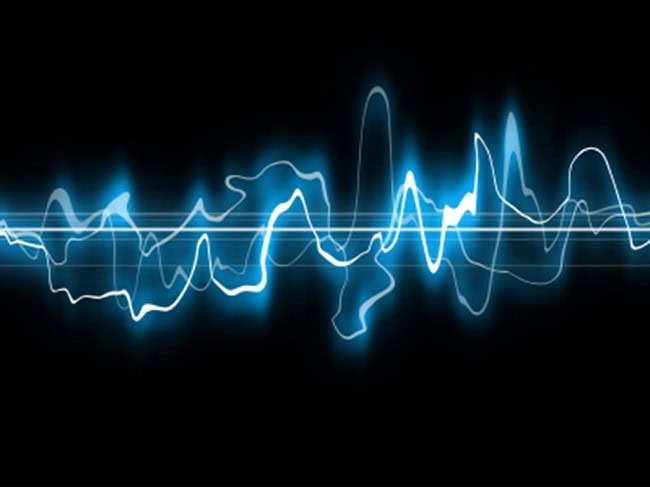 When an audio file is considered difficult?
An audio file with characteristics that can make it difficult for an interpreter to correctly display the content it carries is called a difficult audio file. Features may include background noise, static on recordings, voice overlap, blurry recordings, unclear accents, very fast speech, etc. double or more time to show them.
How to handle an audio transcription project with challenging audio files?
First of all, make sure you are using a good quality headset or headphones as it gives you a better sound from what is said from the audio and helps to improve the quality of the transcription.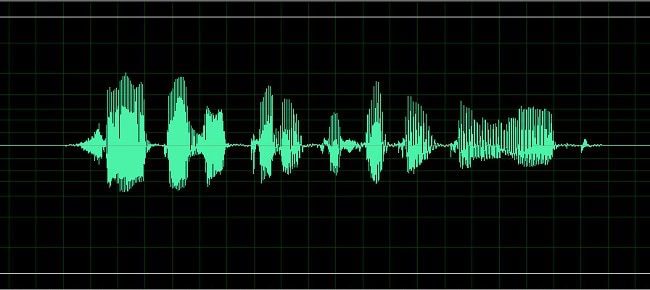 Next, try changing the recording speed like slowing down or speeding up to see if you can hear the word and capture the idea better. However, crazy, this can slow down audio, in fact, making it harder for you to hear the speakers because it sounds like they're being slowed down.
You can also rely on software to remove background noise from source audio files. Express Scribe is software often recommended for people doing transcription work. You may need to click the background noise reduction option several times, but it helps.
Words that are difficult to hear, don't guess
For words that are mispronounced or inaudible due to poor recording, try to understand what is said based on context but just guess. Instead, mention (inaudible) or (some words inaudible) or sometimes (incomprehensible) when you can hear sound but can speak.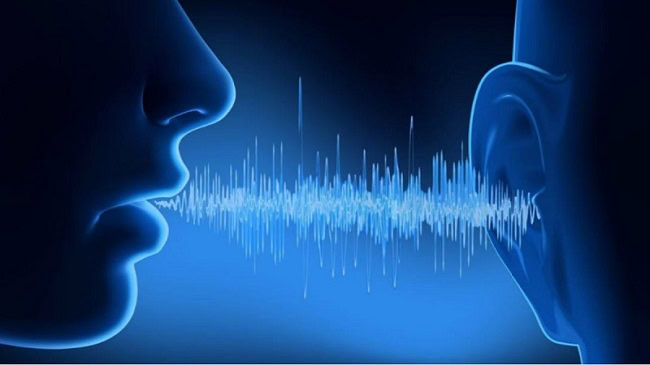 Please inform your customers
If you try one way or another and still can't understand the recording, simply inform your customers of the problem and make sure they understand that the audio quality has a direct impact on the quality of the recording. write the. Let them know you can try to improve the sound and do your best to transcribe but it will take more time and cost and the final transcription may have a lot of gaps.
With years of experience in audio and video transcription, Idichthuat brings you fast and high-quality transcription service.
Save