Need translation Papers and legal documents have become an indispensable part in the context of economic integration, export demand, and economic cooperation between many domestic and foreign enterprises. One of them is the market Japanese full of potential, attracting the number of Vietnamese workers to work and study abroad. The following article will introduce you to the top Japanese translation company in Can Tho have the best quality available.
Top Most Prestigious and Quality Japanese Translation Company in Can Tho
1
Nguyen Khanh An Company Limited
Translation of Nguyen Khanh An is one of the translation addresses that receive good trust from customers thanks to its professional processing process, creating perfect translations. A variety of services are provided at Nguyen Khanh An translation company, such as: document editing, subtitle translation for movies, videos, translation, notarized translation immediately.

Advantages of Nguyen Khanh An Co., Ltd.:
The team of translators is well-trained, has specialized knowledge, and has experience in collaborating with many domestic and foreign large and small enterprises.

Each type of translated document will be divided into the right professional department to ensure the Japanese translation quality is closest to the original content.
Contact Nguyen Khanh An Co., Ltd:
Address: 85 Mau Than, Xuan Khanh Ward, Ninh Kieu District, Can Tho

Phone number: 029 2373 4995
>>> Most viewed articles: Japanese Translation Guide Fast, simple, most accurate.
2
Asia Translation & Interpreting Company
Asian translation and interpretation company is one of the names of the top professional and cheapest Japanese translation companies in Can Tho today. Currently, the company has expanded its branches to operate throughout the provinces of Vietnam, providing solutions to break the language barrier for customers with more than 10 common languages ​​such as: English, Japanese, French, Chinese, Korean , …

Advantages of Asian translation and interpretation companies:
The highlight that makes the name of Asian translation lies in the extremely reasonable price, always committed to lower the quality of the finished product.

In addition, the company's translators are willing to assist in correcting the Japanese translation for customers if they are not really satisfied.
Contact Asian translation and interpretation company:
Address: No. 202, 30/4 Street, Xuan Khanh Ward, Ninh Kieu District, Can Tho

Tel: 0932.232.318 – 0932.237.939
3
Translation company idichthuat
One of the names that has collaborated with many large and small domestic and international units is definitely worth mentioning translation company idichthuat. The number of domestic partners is estimated at over 3.100 enterprises and more than 250 foreign enterprises. Every year, the number of translation orders is over 55 thousand copies.

Advantages of a translation company idichthuat:
At idichthuat You absolutely do not need to wait long, all questions sent via email, website, hotline will be responded by a team of dedicated and professional consultants within less than 10 working minutes.

Outstanding strength at idichthuat that you can hardly find in any other unit in the same industry is the ability to update trends, bring the best convenient and economical solutions to customers.

One of them is pioneering the application of leading translation tools such as SDL Trados, Memo Q, Word Fast, ...
Contact the translation company idichthuat
Address: 228 Au Co, Quang An, Tay Ho, Hanoi

Hotline (Zalo/Viber/Whatsapp): 0866.682.329 – 0384.358.287
Email: dichtot@gmail.com
Website: idichthuat.com
4
Nhat Phuc Translation Company
Nhat Phuc Translation Company came into operation since 2006 until now, has made many outstanding strides in his career, collaborating with many domestic and international companies. The large number of projects received by Nhat Phuc translation shows the trust and appreciation of the quality from the translation team at the company.

Advantages of Nhat Phuc translation company:
The motto of Nhat Phuc translation company is always putting credibility on the top, that's why each translation created contains the dedication and enthusiasm of the team of translators.

The price is notified in detail, clearly, and committed not to increase the price or incur any additional fees during the service.
Contact Nhat Phuc translation company:
Address: 6/27 Le Lai, An Phu Ward, Ninh Kieu District, Can Tho

Phone number: 0989 770 452
>>> Articles to see: 8 Challenges When Translating Japanese Language
5
A2Z Translation Company
A2Z Translation is one of the few units capable of providing translation services in 64 different languages ​​with accurate quality compared to the original in the fastest time. Not only excelling in common fields such as economics, finance, accounting, A2Z translation is also confident to bring high quality translations in the most complex specialties such as engineering, science. , pharmacy, …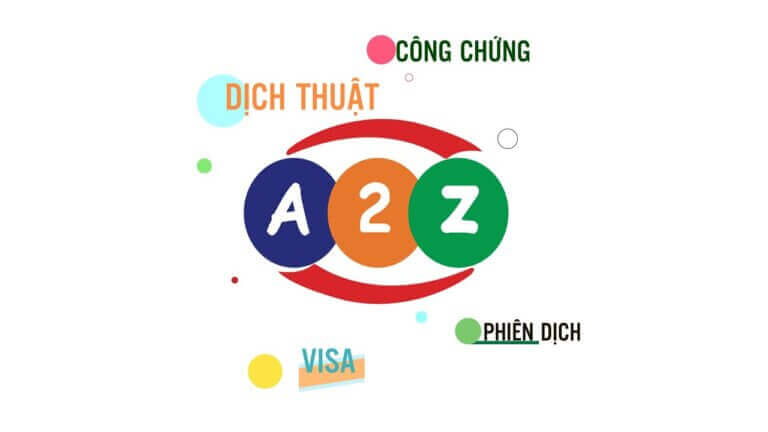 Advantages of A2Z translation:
Thanks to owning a team of more than 6 talented staff and experts, graduated with a bachelor's degree in languages, some are professors, doctorates, masters or international students.

Not only have good professional capacity, but translators at A2Z translation also have a spirit of enthusiasm and dedication in their work, always wanting to bring the best value to customers.
Contact A2Z translation:
Address: 648 30/4 Street, Hung Loi Ward, Ninh Kieu District, Can Tho

Phone number: 0966 779 888
6
MidTrans translation company
MidTrans Translation deserves to be in the top of Japanese translation companies in Can Tho with seniority in the industry. During its operation, it is estimated that the number of completed projects for domestic organizations is more than 10 thousand copies, in addition, the company also cooperates to complete many other international projects, such as: ADB, WB, …

Advantages of MidTrans translation company:
The process of selecting and training personnel is subject to strict requirements, ensuring that translators not only have good skills and knowledge but also a sense of responsibility and good pressure.

MidTrans translation company works with the mindset of "the customer is the one who pays us", so each order is handled through a closed and professional process.
Contact MidTrans translation company:
Head office: Tan Long B, Tan Thoi, Phong Dien, Can Tho

Tel: 0947 688 883 – 0963 918 438
7
Duc Kien Tam Translation Company
The name speaks for the motto of the company's activitiesDuc Kien Tam translation company Always put credibility, dedication and professionalism on the top. The company specializes in providing interpretation and translation services for more than 25 different languages, including some rare languages ​​such as: Portuguese, Malaysian, Italian, Turkish, Indonesian, ...
Advantages of Duc Kien Tam translation company:
Duc Kien Tam Translation provides flexible, detailed and clear quotes to ensure the interests of customers.

All questions about the translation process are free of charge, 24/7 support via hotline number or company website name.
Contact Duc Kien Tam translation company:
Address: 103A Truong Vinh Nguyen, Thuong Thanh Ward, Cai Rang District, Can Tho

Phone number: 0819 759 388
>>> Recommended articles: Top Japanese Translation Company in Binh Duong
In order to help customers have more perfect options, the above article has listed the top Japanese translation company in Can Tho has the most reasonable price, the most experience in the industry. In addition, to receive a free consultation on service packages from a team of enthusiastic and dedicated consultants, please contact us. contact right away the hotline number of company idichthuat. (Refer Japanese translation price prestige, professionalism, best price today)
| | |
| --- | --- |
| ✅ Nguyen Khanh An | 029 2373 4995 |
| ✅ Asian Translator | 0932.232.318 |
| ✅ Idichthuat | 0866.682.329 |
| ✅ Nhat Phuc Translation | 0989 770 452 |
| ✅ A2Z translation | 0966 779 888 |
| ✅ MidTrans translation | 0963 918 438 |
| ✅ Duc Kien Tam | 0819 759 388 |