Currently, there are many centers, translation companies providing translation services in the market with many different prices and service quality. This causes difficulties for customers in finding a professional and reputable translation unit, with reasonable price and quick processing time.
In fact, in addition to reputable translation centers, there are still translation companies that operate unprofessionally, with poor translation quality, slow response times, high service prices, etc. So which translation company is a professional is a common question of many customers?
The Professionalism Of Translation Services Cannot Be Measured
Be wary if you come across a translator or translation agency that makes things sound too easy. It is impossible to express an expectation of their honesty, because translation is never easy. At the very least, reliable tools are needed to ensure efficiency, accuracy, and consistency with translations. But also don't forget the critical need for brands and careful market focus. It's not about swapping words for another language, but about reaching a new local audience effectively.
Consider the importance of true and careful translations. If the provider doesn't tell you who's working on your translations, that's alarming. In fact, a lot of translation services can't tell you because they are providing translations for smaller companies in each local market, or assign teams of translators to projects randomly and inconsistently. shop.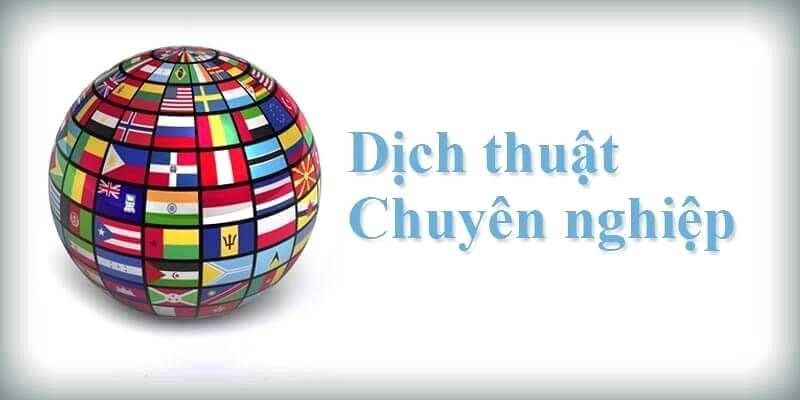 >>> See more: Reasons to Hire Professional Translation Services
You should expect:
To see quality, performance data for each linguist working on your projects.

To have access to the editing and review process.

To keep track of what kind of changes are being made.
If the company is not willing to be transparent about the process, about who does your translation, then you should worry. What are they hiding? Not even really worth your effort to find out.
If a translation company treats its translators badly, how can you expect them to treat your projects well? These providers are established to provide quick and dirty translations. This type of translation company can handle internal communications and working documents or a preliminary internationalization trial. But maybe you don't want to entrust your brand, user interface, and product potential to them.
You Can Expect True Transparency From An Honest Language Partner
As translation moves gradually to localization. Finding the right translation company is also not the end of the story. Translation is just the most obvious tactic to go global. When you are planning a globalization strategy, consider other important things, such as:
What market or market segment are you targeting?

what language?

How to deliver localized content to your customers

How to handle updates?

How will international customers pay for your product or service? What kind of support will they need?
When these problems are solved as a whole, the process is called localization.
The best professional translation services are part of the process towards larger goals. By thinking about global goals and potential rewards at the start of a project, you can determine which partners are needed, what types of technology investments need to be made, resources to commit internally, and how. adjust the core business to an international stage. By organizing this Q&A at the outset, you'll have a better idea of ​​the support needed for a sustainable global strategy.
A committed localization partner will help you map and manage the entire localization ecosystem. This is a partner willing to roll up their sleeves and really get involved to get to know your company and products better. Technically, they are designed to connect, test, and perfect content integration using advanced platform technology.
>>> See more: 3 Notes To Search For A Professional Translation Job
They really care about saving you time and money by automating tasks whenever possible. And they'll make sure you have consistent editors and the best translators for each project. Only then can you expect high-quality terminology, accent, and translations — translations that are clear to your local market.
You can integrate solutions across all content channels while ensuring transparent interactions with all stakeholders in the organization.
Localization represents a major long-term commitment to both you and the language service provider. The right localization partner will help you find the toolkit you need and steer you away from mistakes along the way. Thoroughly interview your localization partner before signing a contract. And don't accept anything less than your global goal.
Idichthuat provides translations as part of its ongoing automated localization services, which also include quality management and expert support. Integration with our platform ensures efficient and fast delivery and care for the language. Contact with Idichthuat to learn and we'll make your localization projects a success and without a hitch.